We are delighted to announce that we have been named Finalists in multiple categories of several Awards programmes.
Templeton have been shortlisted across the following Awards:
ICX Awards
Growing Business Awards
REC Awards
Business Brilliance Awards
SME National Business Awards
ICX Awards
The International Customer Experience Awards serve to recognise incredible work around the world that puts the customer at the heart of products, services and business models.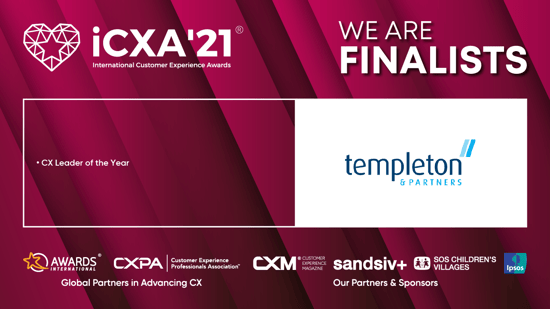 Best Customer Experience
Templeton are shortlisted for two categories in this year's awards: Best Customer Service and CX Leader of the Year (for our Founder & CEO Nadeem Ahmad).
The Best Customer Service category assesses organisations that understand customer service is the lifeline and purpose of their business and truly personalise every experience to customer challenges and needs. All entrants are rigorously measured across business models and strategies, customer service planning and implementation, stakeholder engagement, adapting to challenges and achieving goals and real results for customers.
Templeton recruit technology specialists at short notice across multiple global customer sites. Our 70% international team speaks 25 languages, and we work across 40 countries. Templeton create offshore hubs of skilled local IT professionals to provide global companies with immediate access to wider talent pools, faster recruitment, and labour savings. Our Contract-to-Hire service maximises flexibility: clients can adapt teams to project needs, and clients and contractors can assure compatibility before committing to permanent arrangements.
Best CX Leader of the Year
The Best Customer Experience Leader of the Year Award judges individuals who became true leaders through sharing best practices, showing the way forward and creating profound change in their industry. The award celebrates true innovators who introduce new ways of thinking, introduce revolutionary solutions and create new opportunities for creativity and growth.
As a young person from a BAME background, Nadeem was driven by the need for more diversity in business and connecting people around the world. Setting out to create a truly diverse and international recruitment agency, Nadeem built our company which in 2021 is 70% international, 80% diverse, majority female and BAME-led. Templeton's diverse recruitment team are making tech and business more diverse, one placement at a time.
Other finalists this year include large global brands such as:
Cisco
DHL
GSK
IBM
Nestle
Samsung


Growing Business Awards
The Growing Business Awards honour the UK's most outstanding entrepreneurs and high-growth businesses across industries. Templeton have been shortlisted in two categories: Diversity & Inclusion Champion of the Year and Export Champion of the Year.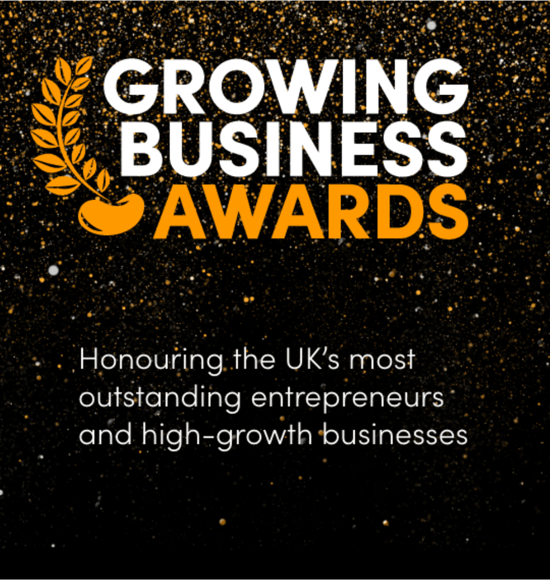 Diversity & Inclusion Champion of the Year
Organisations in this category must evidence employee engagement, initiatives that champion D&I, inclusion as a core part of company growth, and an inclusive corporate ethos and positive impact on the industry.
Our diverse teams ideally position us to engage skilled, diverse candidates best, providing job opportunities and career success for those who are in greater need of support, and making tech and business more representative of the communities they serve.
We recruit diverse tech specialists and diverse C-Suite permanent staff to address the shortage of diverse tech leaders. Only 19% of UK and 17% of European tech specialists are women. Our team is 65% female – rare in the male-dominated IT recruitment industry – enabling us to find and engage skilled female candidates and help tech become more diverse, one leader at a time.
Export Champion of the Year
Businesses in this category must demonstrate why their business is world-class through evidencing exceptional understanding of the target market in every country served, ambitious expansion plans, the strategy behind initiatives and innovation in processes and results. Organisations are judged on their work with international partners, positive sales, market share, performance, customer feedback and growth in international revenue.
When serving customers in new territories, Templeton incorporate and establish local entities. We research and communicate with local networks extensively, commit to becoming compliant, invest in local labour licenses, and employ local citizens who speak local languages. We partner with small local suppliers to ensure contractors receive ethical services in their own language and protect them throughout the recruitment process.
Despite Covid-19, we helped 20% more IT professionals into jobs in 2020 than in 2019. In 2021, we opened new offices in Poland, India and North America and are already continuing expansion plans across Europe.
REC Awards
The Recruitment and Employment Confederation (REC) celebrates the best in UK recruitment, both for individual leadership and company-wide success. In the 12th iteration of the Awards, Templeton are shortlisted in three categories: Business Leader of the Year (our Founder & CEO Nadeem), Recruitment Team of the Year and Diversity Champion of the Year.

Business Leader of the Year
This category highlights business directors, senior managers and owners who have demonstrated excellence in driving the business forward, both through supporting employees and creating an innovative approach to customer service. Leaders in this category will have transcended the traditional role of a boss and have become a core motivation, inspiration and support for their team, clients and candidates.
By adapting services to reach customers online and providing bespoke services for our clients and candidates, Nadeem ensured Templeton retained employee base, revenue and profit throughout Covid-19 and continued to expand internationally and in the UK throughout 2021. Templeton's 15-year partnerships include a global energy company, a large multinational technology corporation and the world's largest healthcare company.
Recruitment Team of the Year
As the staffing industry is known by many other sectors as driving a competitive and individualistic culture, this category serves to highlight agencies where recruitment consultants collaborate with each other as well as with clients and candidates. This category celebrates recruiters who truly work together with the best success for clients and candidates at the heart of everything they do.
In 2021 Templeton engaged a new client, one of Europe's top ten largest banks, to help them lead a company-wide digital transformation project across 14,000 branches for 200,000 staff worldwide. Templeton created a new Polish office, incorporated Poland and recruited a new internal Poland team of Polish citizens and experienced Polish recruiters. We quickly staffed a new tech hub for the bank in Poland to lead the transformation project by using innovative methods like partnering with four Polish Universities, using the networks, language capabilities and cultural understanding of our new team, and meeting talent pools through the channels where they already existed.
Diversity Champion of the Year
This category recognises staffing agencies who are truly championing D&I internally and in their recruitment practices. Although women are increasingly joining the industry, recruitment has historically owned a bad reputation as a male-dominated, aggressive and 'masculine' culture that excludes women, LGBT+ people and people of ethnic minority backgrounds. 2021 figures show that only 4% of recruiters identify as gay or lesbian, and 4% have a disability. Inclusivity is slowly improving, but truly diverse and inclusive recruitment agencies are still rare in the UK.
In addition to having established our diverse team, which is 65% female, 30% BAME, 11% LGBT and 70% international, Templeton has also introduced D&I initiatives. In 2021 we launched our Diversity Advisory Council of diverse employees acting as champions by driving initiatives, meeting regularly to share experiences and ideas, and submitting suggestions to Templeton's Board. Other initiatives, including awareness campaigns, mentoring, training and anonymous surveys, help us to reduce unconscious bias internally, promote diversity externally, and create a supportive space for diverse employees.
Business Brilliance Awards
The Business Brilliance Awards recognise consistent demonstration of brilliance across areas of business, sectors and global locations. Templeton are shortlisted in three categories: Brand Brilliance, International Business of the Year and Entrepreneur of the Year (our Founder & CEO, Nadeem).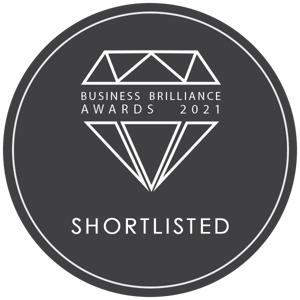 Business Brilliance – This category highlights businesses that demonstrate consistent growth, strong financial performance and brand recognition globally. Judges will look for evidence of exceptional delivery, site engagement, security, innovation and ethical practice. Staff engagement and development, strategic vision and strong growth plans are also assessed.
In 2021 we introduced personal career plans for our team and hired our Learning & Development Manager. Nadeem considers everyone of our team, from entry-level to Director, as vitally important and strives to ensure they feel valued and supported. Templeton hire on merit by assessing personality, aptitude and attitude in addition to skills and experience. Nadeem recently introduced an Apprenticeship programme and personally mentors Apprentices and junior employees.
Templeton also offer 16 benefits for all our employees, including remote and flexible working, training programmes, referral bonuses, performance prizes, team lunches and nights out.
Find out more about life at Templeton.
SME National Business Awards
The SME National Business Awards aim to raise the profile of industrious, hardworking and enterprising SMEs across the UK. In the fifth iteration of the Awards, Templeton are shortlisted for three categories: Business of the Year, Business Person of the Year (our Founder and CEO Nadeem) and High Growth Business of the Year.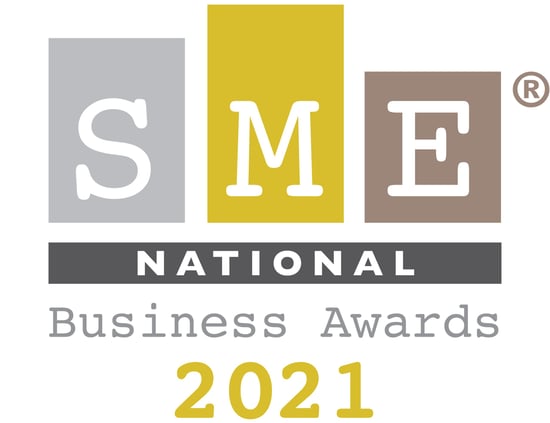 High Growth Business of the Year – High growth firms are referred to as 'gazelles' for the way they are racing ahead, contributing significantly to employment growth across sectors: particularly vital following Covid-19. This category is assessed on business achievements, success against targets, and ambitious plans for continued growth.
Templeton build scalable, specialist international tech teams for international businesses across multiple locations through our own diverse and international team. In addition to our UK, German, Swiss and Dutch hubs, Templeton recently launched into Poland, India and the USA. We are proud of our scalable, efficient and effective services that prioritise every customer need, and we provide shortlisted candidates within 72 hours.
Templeton has always been completely self-funding and has achieved solid profits every year since its inception. Our rapid international growth means we now derive 80% of our business from outside the UK.
By recruiting diverse tech specialists who lead digital transformation in global Banking, Retail, Pharmaceuticals, Energy and IT companies, we help businesses become more effective, diverse and sustainable.
Award-Winning Recruitment Services
We've spent 26 years sourcing hard-to-find, niche tech skills for some of the world's largest businesses. Find out more about our award-winning recruitment services.
Discover the 5 Most Important Skills Your Team Need to Deliver a Successful Digital Transformation.