Are you planning to move to the Netherlands, or have you just moved abroad and looking for more information on Dutch living?
Whether you're moving for work, education, or just a change of scenery, the Netherlands can be an exciting and rewarding place to live. With its friendly people, rich culture, beautiful landscapes, and thriving economy, it's no wonder that the country is a popular destination for expats from around the world. However, moving to a new country can be a daunting task, especially if you are unfamiliar with the local customs, laws, and regulations. So, if you're planning to start a new life there, there are some important things to consider before you make the leap.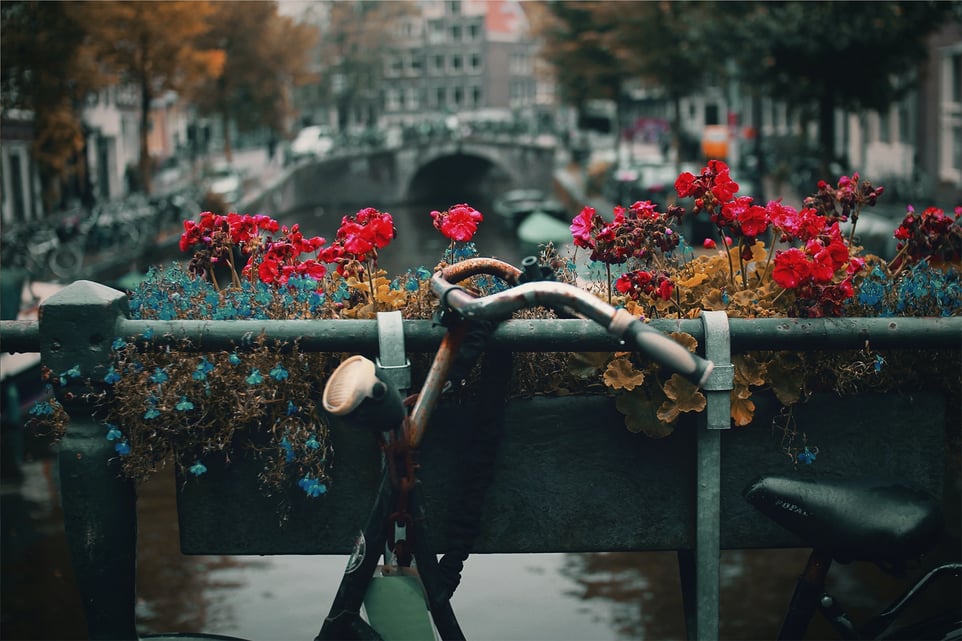 In this guide, we'll cover everything you need to know about living in the Netherlands, including all the necessary information about procedures, visa requirements, registering as a resident, finding accommodation and employment, taxes, cost of living, healthcare, and more. Additionally, we'll provide some fun facts about the Netherlands and the Dutch, as well as some do's and don'ts to make your stay more enjoyable.
Whether you're a first-time expat or a seasoned traveller, this guide will help you navigate the ins and outs of living in the Netherlands and make the most of your experience.
So let's get started!
The Netherlands - Beyond the Tulips and Windmills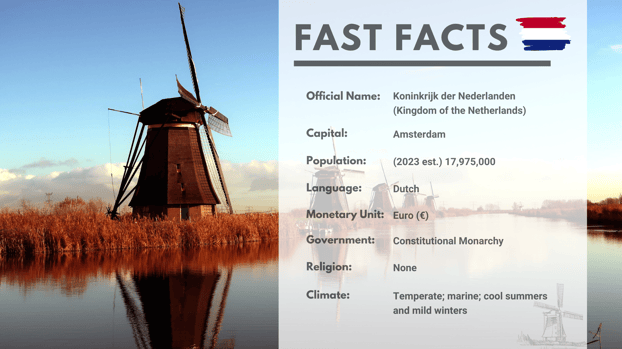 The Netherlands is a beautiful country in Western Europe, known for its windmills, tulips, canals, and cycling culture. It is bordered by Germany to the east, Belgium to the south, and the North Sea to the north and west. With a population of over 17 million people, the Netherlands is one of the most densely populated countries in the world. The capital city is Amsterdam, but the government is located in The Hague.
The Netherlands is a country that is steeped in history and culture, with many famous landmarks and museums, like the Anne Frank House and the Van Gogh museum. The Netherlands is also a thriving economic powerhouse, with a highly educated workforce and a strong focus on innovation. The country is home to many multinational corporations, as well as a vibrant startup scene.
The country is also known for its excellent public transportation, vibrant cultural scene, and liberal attitudes, with a reputation for being one of the most socially progressive countries in the world. The Netherlands boasts a welcoming and open society with a long tradition of embracing diversity. This is reflected in its consistently high ranking as one of the happiest countries in the world, along with its high standard of living.
Moving to the Netherlands
The Netherlands is a fascinating and dynamic country that offers high quality of life and many opportunities for those who choose to live there. However, before getting ready to set sail, there is one fundamental question to answer:
Can I Move to the Netherlands?
In theory, nearly anyone who has a valid reason (e.g. work, studies, etc.) can move to the Netherlands. However, things are much easier for EU/EEA/Swiss citizens and a bit more complicated for everyone else.
If you are an EU/EEA/Swiss citizen: Moving to the Netherlands can be relatively easy if you are a European Union (EU) citizen, the European Economic Area (EEA), or Switzerland. If you are a citizen of one of these countries, you can stay visa-free in the Netherlands for up to 90 days. However, if you plan to stay longer than four months, you will need to register as a resident at your local municipal personal records database.
If you are a non-EU/EEA/Swiss citizen: If you are not an EU, EEA, or Swiss citizen, you will need to apply for a visa before you can move to the Netherlands. But to do so, you also need to have a strong reason to want to move to the country. There are several types of visas you can apply for, including the following:
Work Visa: As a non-EU/EEA/Swiss citizen, the most straightforward method to move to the Netherlands is to find a job and apply for a work visa or a highly skilled working visa. The highly skilled working visa is designed for highly qualified professionals, such as scientists, engineers and IT specialists. The work visa requires the employer to apply for a work permit on behalf of the employee, while the highly skilled migrant visa allows the employee to apply directly. Both types of visas are usually valid for one year and can be renewed.
Study Visa: If you are planning to study at a Dutch university or institution, you can apply for a study visa. The study visa allows you to stay in the Netherlands for the duration of your study programme. You will need to provide proof of enrolment, financial means and health insurance.
Family Reunion Visa: If you have a Dutch partner or family member in the Netherlands, you can apply for a family reunification visa. The visa allows you to live and work in the Netherlands, provided you meet certain requirements (e.g., your family member is a Dutch national, you are both at least 21 years of age, etc.).
Entrepreneur Visa: If you plan to start a business in the Netherlands, you can apply for an entrepreneur visa. The visa requires you to have a viable business plan and sufficient funds to start and run the business.
DAFT Visa: Similar to the entrepreneur visa, the Dutch American Friendship Treaty is an agreement that allows US entrepreneurs and investors to obtain a Dutch residence permit if they make an investment of at least €4,500. This residence permit is valid for two years, and you can apply for a permanent residency permit after five years.
Schengen Visa: This is a short-term visa that allows you to stay in the Netherlands for up to 90 days.
After acquiring a visa and moving to the country, you need to get a temporary residence permit. To become eligible for permanent residency, you need to live in the Netherlands for five consecutive years.
How Can I Apply for a Visa?
To apply for a visa in the Netherlands, you will need to provide a variety of documents, including a valid passport, proof of accommodation, evidence of sufficient funds, and travel insurance. If you are applying for a long-stay visa, you may also need to provide additional documents, depending on the purpose of your visit, such as a job offer or acceptance letter from a Dutch educational institution. The exact requirements will depend on the type of visa you're applying for.
In addition to the visa requirements, there are also certain conditions you must meet to be considered eligible for a visa, such as not having a criminal record and being in good health. The Dutch immigration authorities will also consider factors such as your financial stability and ties to your home country when deciding whether to grant you a visa.
To ensure a smooth and successful application, it's important to carefully research the visa requirements and processes for your specific case and apply well in advance of your planned travel dates. The visa application process can take several weeks or even months. Also, note that there is a fee you will need to pay for the visa application.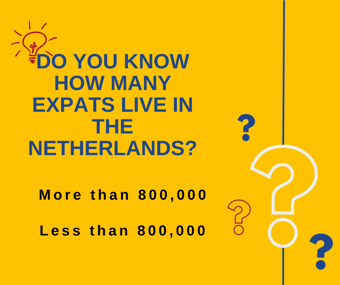 Answer:
According to data from the Netherlands' Central
Bureau of Statistics (CBS), as of 2021, there were
approximately 825,000 expats living in the
Netherlands. The expat population in the Netherlands
has been steadily growing in recent years, with the
largest groups coming from the US, the UK, Germany,
and India.
Travelling to the Netherlands
What Do I Need to Arrange Before My Travel?
The travelling requirements for the Netherlands depend on your nationality, the purpose of relocation, and the length of stay.
If you are an EU/EEA/Swiss citizen, for example, travel to the Netherlands is easy as there are no border controls between countries within the Schengen Area. As long as you have a valid passport or ID card, you can enter the country and stay for up to 90 days.
Non-EU citizens, on the other hand, will probably need a visa to enter the Netherlands. Visitors from certain countries (like Australia, Canada, Japan, and the US) may be able to enter the country without a visa for a stay of up to three months, while others will need to apply for a visa before travelling.
Here are some general requirements you need to arrange before your scheduled travel:
Passport: You must have a valid passport that is not due to expire for at least three months beyond your intended stay.
Visa: (See previous sections for types of visas and application requirements)
Health Insurance: You need to have health insurance that covers your medical expenses. This is mandatory for all residents and visitors.
Financial Means: You need to have sufficient funds to cover your expenses during your stay in the Netherlands. The amount varies depending on your purpose and length of stay.

Residence Permit: If you plan to stay in the country for more than three months, you need to apply for a residence permit.
🔎For more detailed and updated information on the travelling requirements for the Netherlands, you are advised to consult the website of your country's Dutch embassy.
Arriving in the Netherlands
Registering as a Resident
If you are going to stay in the Netherlands for more than four months, you need to register as a resident of the municipality where you're going to live. You must do this within five days of arriving in the country. This is mandatory for all residents, including EU citizens.
Here is how to register:
Find your Local Municipality Office: You can find your local municipality office on the website of the Dutch government.
Make an Appointment: You need to make an appointment to register as a resident. You can do this online or by phone.
Bring the Required Documents: You need to bring your passport, visa (if applicable), and proof of address (such as a rental agreement or utility bill).
Pay the Fee: The fee for registering as a resident varies depending on the municipality.
When you register, the municipality will arrange:
A burgerservicenummer or citizen service number (BSN), which you need for all your administration in the Netherlands. This includes opening a bank account, receiving your salary, visiting a doctor, getting health insurance, and applying for benefits. You should also request a DigiD, which allows you to log in to government and healthcare websites.
Your registration in the Personal Records Database (BRP), in which all residents of the Netherlands are listed.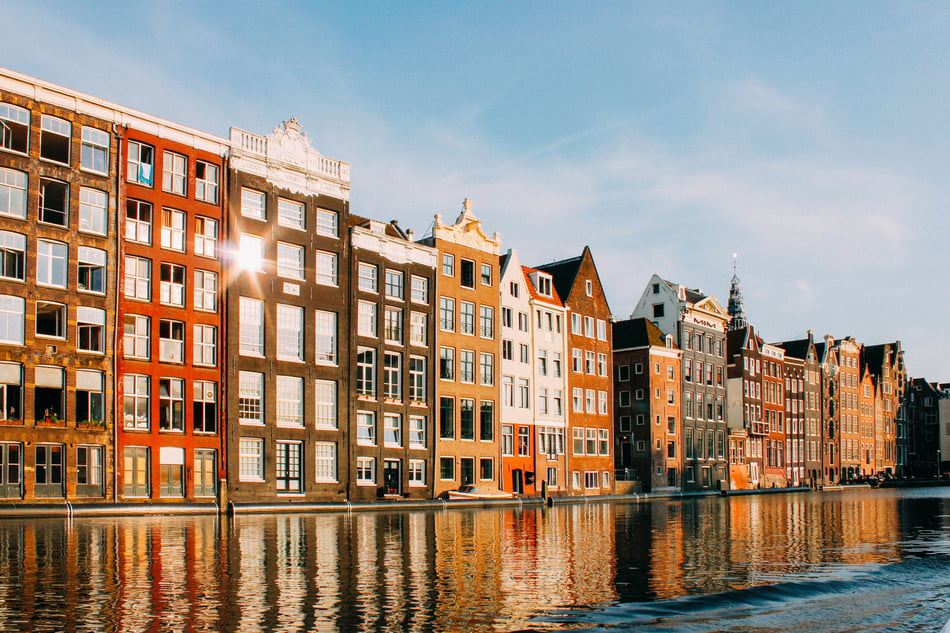 Finding Accommodation in the Netherlands
Finding accommodation in the Netherlands can be a challenge, especially in major cities like Amsterdam and Rotterdam, where the demand for housing is high. However, with the right approach and some persistence, you can find a suitable place to call home.
Here are some tips to help make your search easier and more efficient:
Start Early: Begin your search for accommodation as soon as possible. Finding a suitable place can take several weeks or even months, particularly if you're looking for housing in one of the country's bigger cities. So, give yourself plenty of time.
Use Online Resources: There are many websites and platforms dedicated to finding accommodation in the Netherlands, such as Pararius, Funda, and Kamernet. These websites allow you to search for apartments, rooms in shared houses, and properties for rent in your desired location.
Join Facebook Groups: Joining Facebook groups for expats or students in your area can be a great way to find accommodation. These groups often have members who are looking for roommates or have spare rooms available.
Contact a Rental Agency: As experts in their field, letting agencies can help you navigate the rental market and find suitable properties that match your requirements.
Be Flexible: Be prepared to compromise on certain aspects of your accommodation, such as location or size, in order to find something within your budget. Sharing a house or apartment with others can be a more affordable option, and you might also want to consider living in the suburbs or smaller towns to save some money.
Know Your Rights: Make sure to understand your rights as a tenant in the Netherlands. Double (or even triple) check your letting agreement and terms of your lease and be cautious of rental scams. No legit landlord will ask for money upfront without showing you the property.
Finding Employment in the Netherlands
The Dutch job market is strong, with opportunities in sectors such as healthcare, IT and technology, reengineering, agriculture, and finance. Therefore, finding employment in the Netherlands can be relatively easy if you have the necessary skills and qualifications.
Many expats already have a job when they arrive in the country, but if you're still on the look, here are some tips you may find useful:
Apply for a Work Permit: To work in the Netherlands, you will need to obtain a work permit if you are a non-EU citizen.
Check Job Websites: Popular job boards such as Indeed, LinkedIn, and Monster can help you find job openings in your area. You can also check the Dutch public employment service website, UWV Werkbedrijf, for job listings. Additionally, you can check the company websites you're interested in working for and apply there directly.
Network: Attend industry and networking events, conferences, and job fairs to meet and connect with potential employers in your field.
Learn Dutch: While many jobs in the Netherlands do not require Dutch language skills, knowing the language can give you a competitive advantage. Knowing Dutch can improve your chances of finding a job, especially in sectors that require communication with Dutch-speaking clients.

Use a Recruitment Agency

: When working with a recruitment agency, you're not totally alone in your job search. A recruiter could match you with a job that requires your skills and experience.
Be Persistent: Finding employment in the Netherlands can take time. Be patient, persistent and don't get discouraged if you don't hear back from employers right away. Keep applying and networking until you find the right job.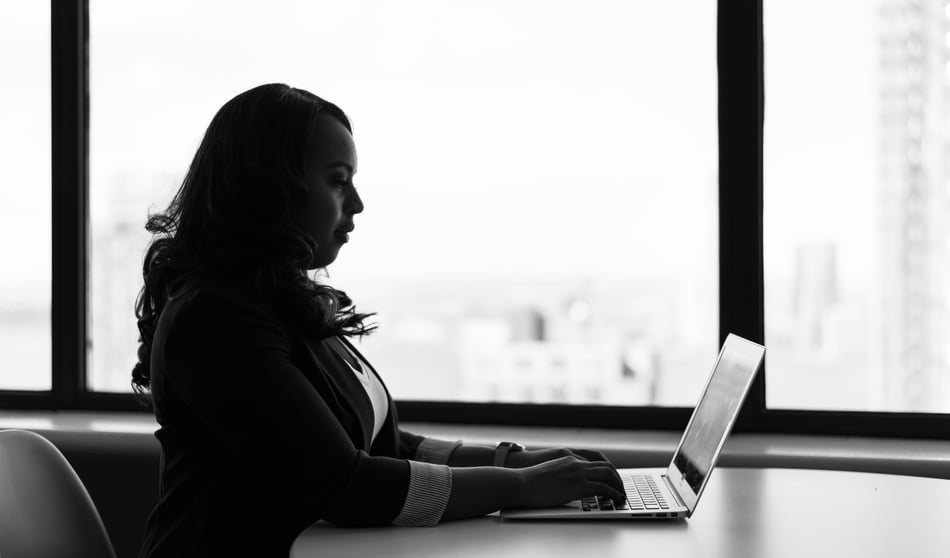 Living in the Netherlands
The Cost of Living in the Netherlands
The cost of living in the Netherlands can be relatively high, depending on your location and lifestyle, especially in the largest cities. The country has a high population density, and this impacts property prices in the country. Tax rates are also high, but on the other side, salaries are generally high, groceries remain fairly cheap, and medical services can also be accessed at a reasonable price.
Some of the expenses you can expect to incur include rent, utilities, food, transportation, and healthcare.
Housing: The cost of rent varies depending on the location and size of the property. In Amsterdam, for example, the average rent for a one-bedroom apartment can range from €800-€1500 per month.
Utilities: Utilities like electricity, gas, and water can add an additional €150 to €200 per month.
Food: Food costs in the Netherlands are comparable to other Western European countries. A meal at a mid-range restaurant can cost between €15 and €25, while groceries for a single person can range from €150 to €300 per month.
Transportation: Transportation costs in the Netherlands are relatively low compared to other countries. The public transportation system is well-developed, and a monthly pass for unlimited travel by buses, trains and trams can cost around €100 per month.
Healthcare: The cost of healthcare is covered by mandatory health insurance, which can range from €100-€150 per month.
The cost of living in the Netherlands has risen steadily over the past few years. Numbeo's most recent Cost of Living Index, places the Netherlands among the top ten most expensive countries in Europe, ahead of France, Belgium, the UK, Sweden, and Germany. According to this index:
For a family of four, estimated monthly costs are 2,764.9£ (3,137.2€) without rent.
For a single person, estimated monthly costs are 789.1£ (895.4€) without rent.
Cost of living in the Netherlands is, on average, 10.0% higher than in the UK.
Rent in the Netherlands is, on average, 9.1% higher than in the UK.
Regarding the different cities of the Netherlands, Amsterdam is currently the 11th most expensive city for foreigners in Europe. The capital remains the costliest city in the country, followed by Utrecht, Groningen, Eindhoven, and the Hague.
Paying Taxes in the Netherlands
If you are living and working in the Netherlands, you will need to pay taxes. The Dutch tax system is based on income tax, which is divided into three brackets. The first bracket is for income up to €35,129; the second bracket is for income between €35,129 and €68,507, and the third bracket is for income above €68,507.
In addition to income tax, you may also need to pay other taxes, such as value-added tax (VAT) or property tax, depending on your circumstances. The tax system in the Netherlands is quite complex, so many expats decide to work with a tax advisor to ensure they're complying with Dutch tax laws and that they are paying the right amount of tax.
Here are some general key points you need to know:
Register for a Tax Number: You will need to register for a tax number with the Dutch Tax and Customs Administration (Belastingdienst).
Pay Income Tax: Dutch income tax is progressive, meaning that the more you earn, the higher the percentage of tax you pay.
Pay Social Security Contributions: You will also need to pay social security contributions, which provide you with access to healthcare, unemployment benefits, and pensions.
File a Tax Return: You will need to file a tax return each year, which can be done online or by paper.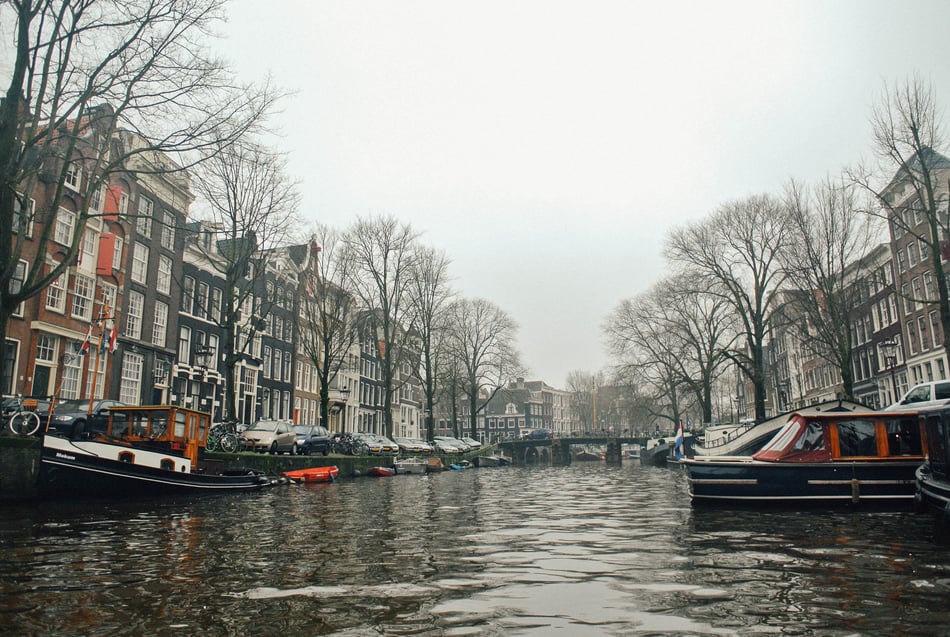 The Healthcare System in the Netherlands
The Dutch healthcare system is one of the best in Europe, and highly regarded for its quality and accessibility. All residents are required to have basisverekering, the compulsory health insurance scheme which covers the costs of visiting your GP, medicines and hospital visits (partially).
The country's public healthcare system is funded by a combination of taxes and premiums paid by residents. If you are working in the Netherlands, you will be automatically enrolled in the public healthcare system and will need to pay a monthly premium, the cost of which depends on your income and other factors. You can also take out supplementary insurance to cover extra costs, like physiotherapy.
Here are some key points to know:
Have Health Insurance: It is mandatory to have health insurance in the Netherlands, which provides access to medical care and prescriptions.
Choose a Healthcare Provider: You can choose from a range of healthcare providers, including general practitioners, specialists, and hospitals.
Pay Excess: You will need to pay a small amount, called an excess, for medical treatment each year.
Safety and Security in the Netherlands
In general, the Netherlands is a very safe country to live in. Drug-related crime and other forms of crime are at an extremely low level. However, there is always a chance that you could find yourself in the wrong place at the wrong time. Especially if you have decided to live in Amsterdam, Rotterdam, or in some other big city, there are some standard safety precautions you are advised to follow:
Ensure you're not walking alone in secluded dimly lit areas at night if you can avoid it.
Always keep an eye on your children and personal belongings.
Make sure you're visible on the road – always have lights on your bike, and don't wear dark clothing.
Always carry your ID or some identification document with you.
Always keep your doors locked.
Be extremely careful when crossing roads, especially on zebra crossings. Look out for cycles and mopeds, which often ignore road traffic rules and red lights.
112 is the emergency number for the Netherlands. Should you have an emergency and need the police, the fire department or an ambulance, call this number.
The Big

Do's

and

Don'ts

in the Netherlands
The following tips will help you integrate into Dutch society and make the most of your experience living in the Netherlands.
The

Do's
Learn to Ride a Bike
You might think you already know how to ride a bike, but cycling in the Netherlands is a whole different story. To cycle like a Dutch means to know how to ride a bike with your hands in your pockets while towing a second bike alongside yourself or confidently give someone a lift on the back of your bike – or all the above at once.
Dutch people are very direct and open in their communication style. People from other countries and cultures may interpret this directness as being rude. But that's far from being true. Most Dutch people are actually extremely humble, welcoming, and friendly towards foreigners. It's just that they value honesty and expect you to be straightforward and to the point as well. On the other hand, if they sense you're displaying arrogance or superiority, be prepared to be criticised.
The Netherlands has a rich cultural history, with many museums, galleries and cultural events to visit. Taking the time to learn about Dutch culture can enhance your experience of living in the Netherlands.
Most Dutch people are proficient in English and German, while many also speak really good French and Spanish as well. However, if you want to live and work in the Netherlands, it's still important to learn their language. Speaking Dutch will help you integrate into society and make it easier to communicate with colleagues and neighbours.
The

Don'ts
North and south Holland are only part of the Netherlands, only two of its 12 providences to be more specific. So, when you're referring to the Netherlands as "Holland", it's like ignoring more than two-thirds of the country.
Don't Walk on the Bicycle Paths
Most people who visit the Netherlands are not used to the number of bicycles. In the big cities, and especially in Amsterdam, it can get quite frenetic. If you're strolling the city on foot, remember to stay on the pavement. Cycle paths are full of people cycling at full speed and won't be gentle with you if you stand in the way. Standing still is a bad idea.
Don't Surprise Dutch People with a Visit
Dutch people really like to plan things ahead. Not only at work, but also with friends. So, if you show up unannounced, you will probably be welcomed with a strange look.
Don't Drink Alcohol on the Streets
In the Netherlands, it's against the law to drink alcohol on the streets. If caught doing so, you will be asked to empty your can or bottle on the ground and receive a fine on the top.
Conclusion
Living in the Netherlands can be a wonderful experience, but it requires careful planning and preparation. If you are considering moving to the Netherlands, make sure to do your research and work with professionals where necessary. By doing so, you can enjoy all that the Netherlands has to offer while staying within your budget and meeting your needs.
For more information and guidance on moving to the Netherlands, check out these websites:
iamsterdam

–

the

local government information site for expats

nl

– immigration information from the Dutch central government





Looking for a Tech Job in the Netherlands?
Templeton and Partners provide contract tech jobs in the Netherlands and in 39 more countries worldwide. Our diverse, international team is on a mission to find the right one for you. Search hundreds of open IT job vacancies here, or get in touch with us today!