In a dynamic and rapidly expanding field like tech, with unlimited opportunities and potential career paths, having a committed guide who knows your industry can make all the difference in your professional advancement.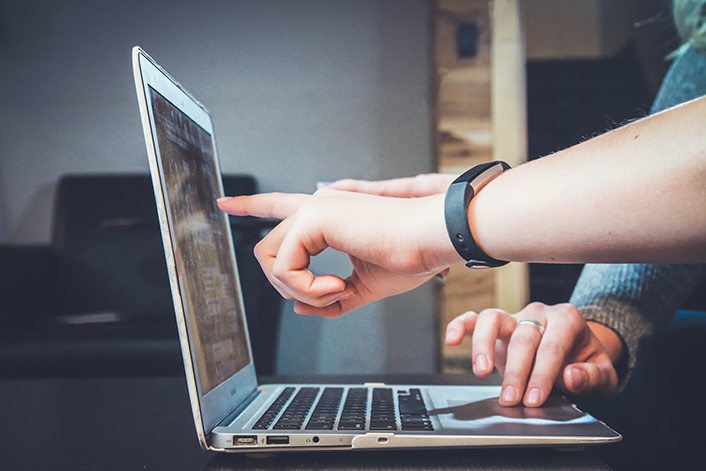 Sometimes talent and skills alone can only take you so far. When competing for a role against dozens or even hundreds of equally skilled and motivated IT professionals, you might need an extra boosting factor to make you stand out from the crowd. A tech recruitment agency with the proper knowledge, connections, and industry insights can significantly improve your chances of landing the job.
A dedicated and experienced recruitment agency can help you reach your full professional potential regardless of where you stand on your career journey. But how to find a tech recruitment agency that suits your needs, skills, and career ambitions?
In this article, Templeton's tech recruitment experts will explain:
Why you might benefit from using a tech recruitment agency to help you find a job.
How to choose the best tech recruitment agency to work with.
And how to evaluate their ability to help you advance your career.
What Is a Tech Recruitment Agency?
Have you ever felt that you've spent so much time and energy searching on job boards and employment sites, applying for roles, tailoring your CV for each position, polishing your cover letter and all of that for nothing? Well, you're not alone. Looking for a job in the technology field can seem like a dreadful experience to most job seekers.
At the same time, one of the most significant challenges companies across sectors face is finding the best IT talent to hire. Even the top and the largest businesses can struggle with talent acquisition, particularly when they need employees with specific technical skills. Having to go through stacks of resumes, interview dozens of promising candidates, and then find the right person to fill the role, if they're lucky, is quite an overwhelming – not to mention time and money-consuming – process.
A tech recruitment agency helps connect companies with IT professionals by working with both, solving both parties' problems simultaneously by matching the right candidates to the right roles.
Simply put, tech recruitment agencies, also known as IT staffing agencies, are organisations that source, vet, interview, and hire tech candidates on behalf of other companies. Having a deep understanding of the industry, they work with job seekers to identify their skills, experience, and goals, so they can better match them with the right opportunities. However, this also benefits the companies and organisations these agencies work with, as they get to fill their open tech vacancies with the best possible candidates while saving time and money simultaneously – a classic "win-win" situation.
Searching for a Tech Recruitment Agency
When looking for a recruitment agency to work with, you'll want to find one that fits your skills and aligns with your desired career path. Bear in mind that different recruitment agencies specialise in different industries and types of employment. Therefore, before starting your search, make sure you have decided whether you want to seek temporary, contract, or permanent employment. Moreover, ensure that you're focusing your efforts on finding specialised agencies in your field.
There are several ways you can find an IT recruitment agency to assist you in your job search:
Use social media, like LinkedIn, to connect with potential good fits.
Ask your network for recommendations.
Do a google search and browse job boards.
Post your CV on employment sites and allow recruiters actively searching for your skills to contact you.
Set your LinkedIn profile to open so you can be spotted by agencies looking for talented tech professionals like you.
The next step is to shortlist the best matches by comparing their services, reviews, success rates, available jobs, and industry connections.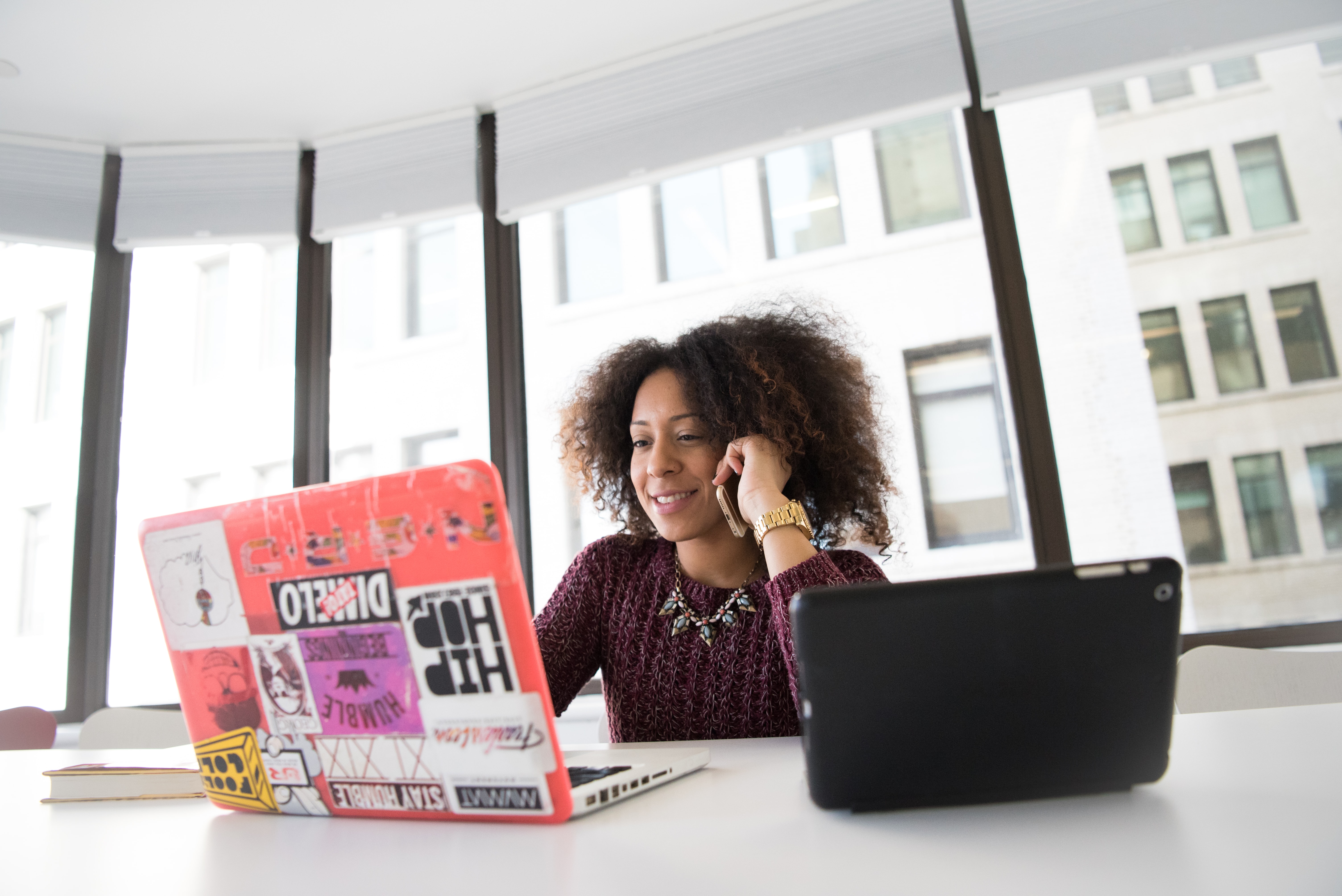 Signing Up with an IT Staffing Agency
Once you've found the tech recruitment agency you feel most comfortable working with, you first need to fill out an application and sign up with them. You'll probably be asked to provide your most recent resume, cover letter, and some identification and work documents. Then, you'll be interviewed, so they can gather all the relevant information about your education, work experience, technical and soft skills, and desired career path.
During this process, make sure you provide all the correct information, don't lie about your experience, education or anything else, be completely honest about your career goals, and set clear expectations about what you hope to gain from this partnership. It's always best if the recruitment agency knows what to expect, and it's the only way to determine whether they can help you find your dream job.
Finding a Job through your Agency
Once you're fully registered with your chosen tech recruitment company, you can start working together to find the right position for you. Typically, the agency will assign you a professional recruiter to assist you with your job search. They will be responsible for sending you specific role recommendations and pointing you in the right direction while browsing the agency's list of job openings. Meanwhile, they can help you improve your CV and prepare you for interviews.
When you find the desired IT position, the recruiter will help you every step of the way to ensure you'll get the job and the best possible offer, from giving you feedback and company insights to negotiating your salary and perks on your behalf. They should also be able to provide you with a timeframe for the hiring process and explain what your role in the company will be.
Getting Hired – Next Steps
If you're hired as a temporary employer, or IT contractor, your recruitment agency might also be responsible for managing your contract and payroll. However, whether you're employed short-term or long-term, you stay in the agency's database and get notified of relevant jobs in case you consider your future career steps.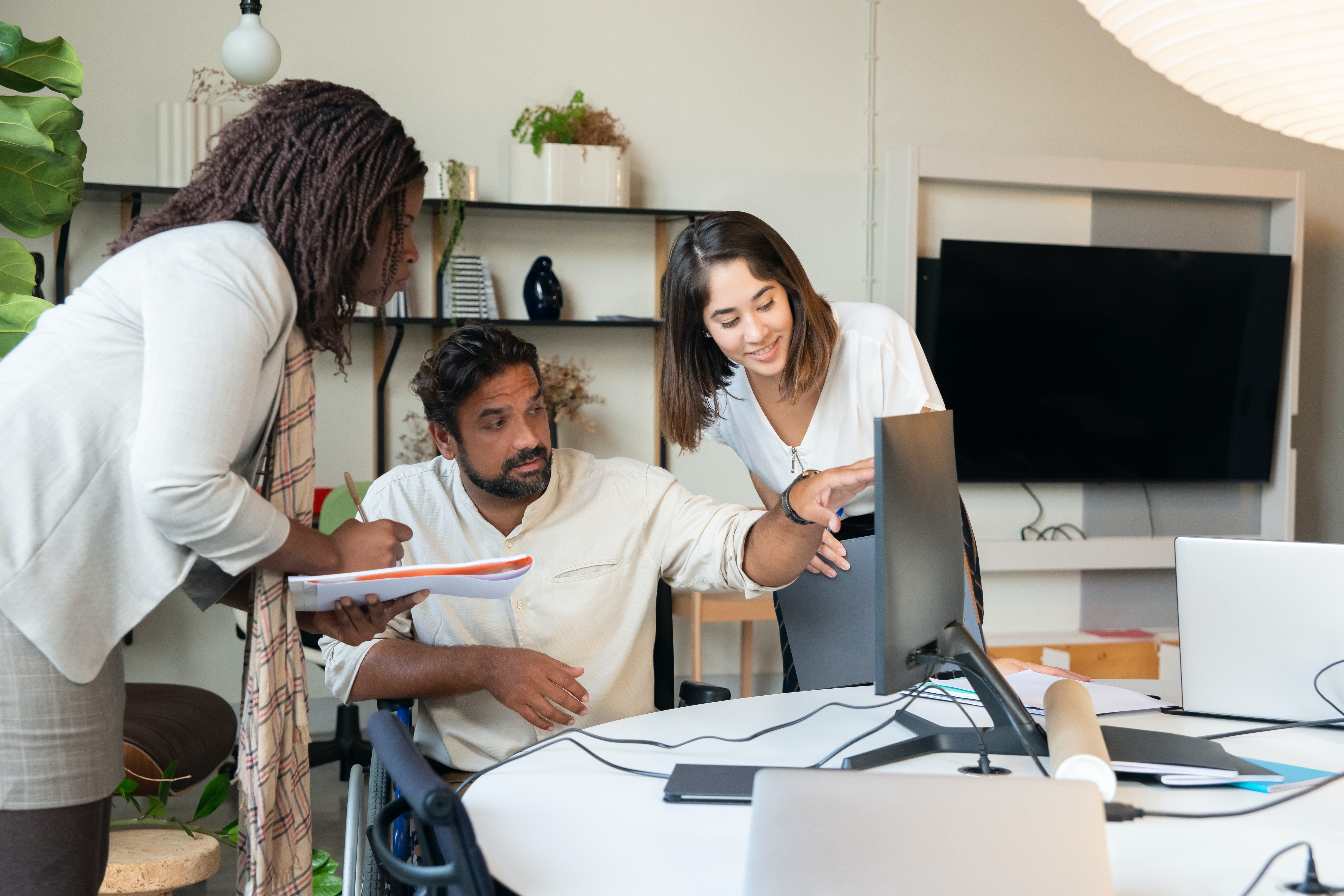 Benefits of Working with an IT Recruitment Agency
Let's face it. Job searching is a daunting task. That's why working with a recruitment company is a common method for job seekers who want to (re-)enter the employment market, shift careers or progress their existing one. Apart from being the most efficient way to connect with companies within your industry, having an agency that specialises in your field to act as your advocate and career promoter can help you explore opportunities you would never otherwise encounter.
Not convinced yet? Here are more reasons to consider using a tech recruitment agency for your job search.
Save Time and Reduce Stress
Have you ever thought about how many hours you have spent searching job boards, sending applications and waiting for the phone to ring? With a tech staffing agency by your side, you can sit back and relax a bit, as they can help you reduce the amount of work, time and energy you have to devote to finding your next role.
When you sign up with a recruitment agency, you often only have to fill out one application. After that, recruiters do their work for you, from sending out your application and scheduling your interviews with potential employers to following up with them and negotiating your salary.
Increase Your Chances of Getting Hired
Employment search is rarely fast and never easy. Finding the right job can take months, regardless of whether you are an experienced IT professional or a recent graduate. But when you're partnered with a specialist recruitment agency, you're not alone in your job search.
The recruiters working for the agency devote a lot of time to match you with a job that fits your skills and experience. Their effort alone can significantly increase your chances of success in the IT job market and help you stand out from the crowd. Moreover, a recruitment agency will allow you to access a much wider range of job opportunities since they're usually the first to hear about new openings, and they always have insider knowledge of the ones not advertised online.
What's more, tech recruitment agencies often work with some of the top IT employers for years or even decades. During this time, they earn the employer's trust, who most likely relies on their judgment and recommendations to find the most qualified candidates. So, if you're one of these candidates, the odds of getting hired are pretty high.
Tech recruitment agencies sign contracts with businesses looking for top tech talent to fill their open positions and get paid by them on commission. In other words, they don't find jobs for people — they find people for jobs. However, this often works in your favour.
Staffing agencies typically earn a percentage of their placement's base salary. So the more money they can get out of a job offer, the higher their commission will be. Therefore, it's in their own interest to go above and beyond to close the best possible deal for you.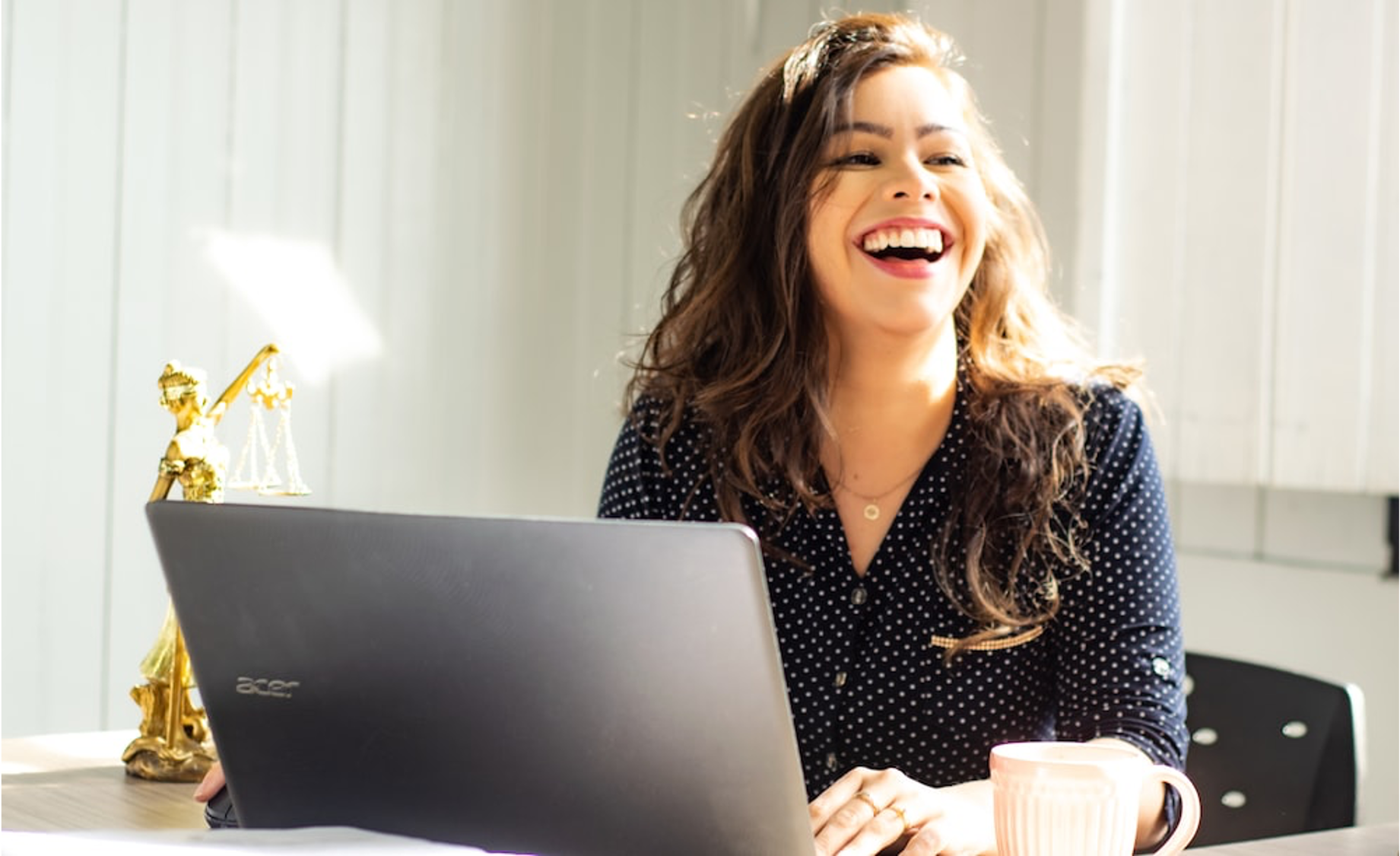 Network on a Larger Scale
Staffing agencies rely on the scale of their network for much of their business success. And because bigger is better when it comes to networking, tech recruiters spend a lot of time making connections and building relationships with various companies looking to fill IT vacancies.
When working with a recruitment agency, you can take advantage of their existing network to expand the reach of your job applications and get the most out of your job-seeking efforts. Moreover, you can benefit from their excellent communication skills to connect with organisations you might not have heard about and use your agency's reputation to get much easier in front of hiring managers than being on your own. Most importantly, if you're interested in finding employment in a particular niche, you can definitely use the help of a specialist recruitment agency to connect with a more extensive network of companies already thriving in that specific field.
Find Career Opportunities Tailored to Your Skills
Industry recruitment agencies know the market and its needs. So, when businesses need employees with specific technical skills, they often reach out to a tech recruitment agency to assist them in their quest since they know exactly what kind of candidates will make the best match.
A good agency will also have a deep understanding of the tech industry and the specific skills that companies are looking for. At the same time, they will know your unique talents and what career opportunities are out there for you, including the ones that may not yet be listed or advertised on any other medium. Thus, it's more likely that you'll be introduced only to the companies and opportunities that are actually a suitable fit for you.
Stand Out As the Best Candidate
Since recruitment agencies get paid based on the placements they make, they're highly motivated to help you in any way they can to find a job. This often requires them to act as your career promoter and coach, using all their talent and tricks to make you the best candidate you can be. This may include polishing your CV to look more appealing to hiring managers, coaching you for interviews to make a good first impression, working with you to improve your technical skills, and offering you personalised career advice and guidance. This guidance can particularly benefit IT professionals with extensive experience or hard-to-find skills.
In most cases, tech recruiters have the experience and the insight into what the hiring company is looking for, and they also know how to make you stand out during an interview. From tailoring your resume to fit the organisation's needs to giving you the best tips as you move forward with your future employer, a good agency can help you increase your odds of getting a positive outcome.
Get All These Benefits for Free
Most IT recruitment agencies operate at no cost to job seekers. So, you get to have access to more opportunities, stand out from the competition, receive personalised career guidance, and the best possible job offers, all for free.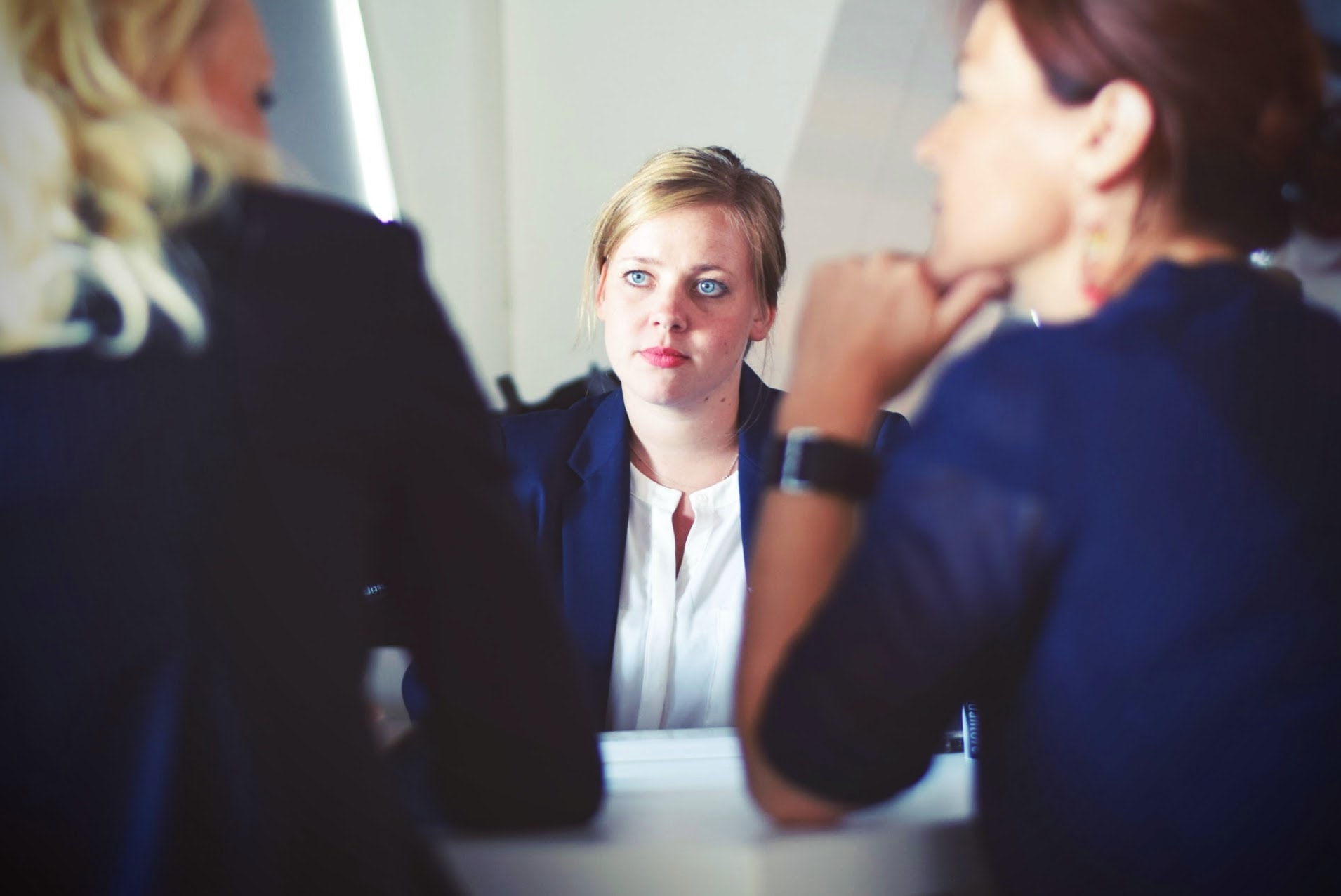 Key Deciding Factors When Choosing a Tech Recruitment Agency
Employment agencies are a great way to find a new job, but how do you know which one is for you?
A recruiter must understand your needs, unique skills, and career ambitions to place you in the right role. The more they know about you, the better the match will be. The same applies to you as a job seeker looking for the right agency to actively promote your services. There are several things you need to take into consideration while doing your research, such as the agency's reputation, services, policies, partners, etc. Clearly defining your needs and knowing the key attributes of your potential career agents can help you make the best choice.
Here are five simple tips for finding the right tech recruitment agency for your job search.
1. Look for an Agency that Specialises in Your Field
Many recruitment agencies support various industries and clients without specialising in a particular area or market. This works just fine in some cases, but if you're seeking a job in a specific sector like tech or you have niche IT skills, you might want to consider partnering up with a recruitment agency that specialises in your industry.
Niche or specialist tech recruitment agencies usually have expert knowledge of the current job markets and trends and valuable industry insights that you could otherwise miss out on. They can also speak the same language as you. They can better relate to your requirements and preferences and are familiar with your profession's terminology and tools to adequately promote you to prospective employers. Moreover, such agencies often have strong links with companies hiring for skills like yours, which makes them valuable to your job search.
2. Decide What Type of Employment You Want
If you're looking for temporary employment that matches your long-term career goals, you may want to consider a tech staffing agency that works primarily with contractors. Such agencies are a great option for IT professionals who enjoy working in different environments and need a flexible schedule. Similarly, if you seek a permanent role, then an agency that specialises in placing candidates into long-term careers is a better option for you.
Whichever the case, you need to clarify your professional needs and look for a recruitment agency that has experience working with the type of job you're searching for. This will save you a lot of time and frustration in finding the recruitment agency that can actually help you achieve your career goals. You're more likely to land the right role when you work with a specialist recruiter who can match your job preferences with the right opportunities.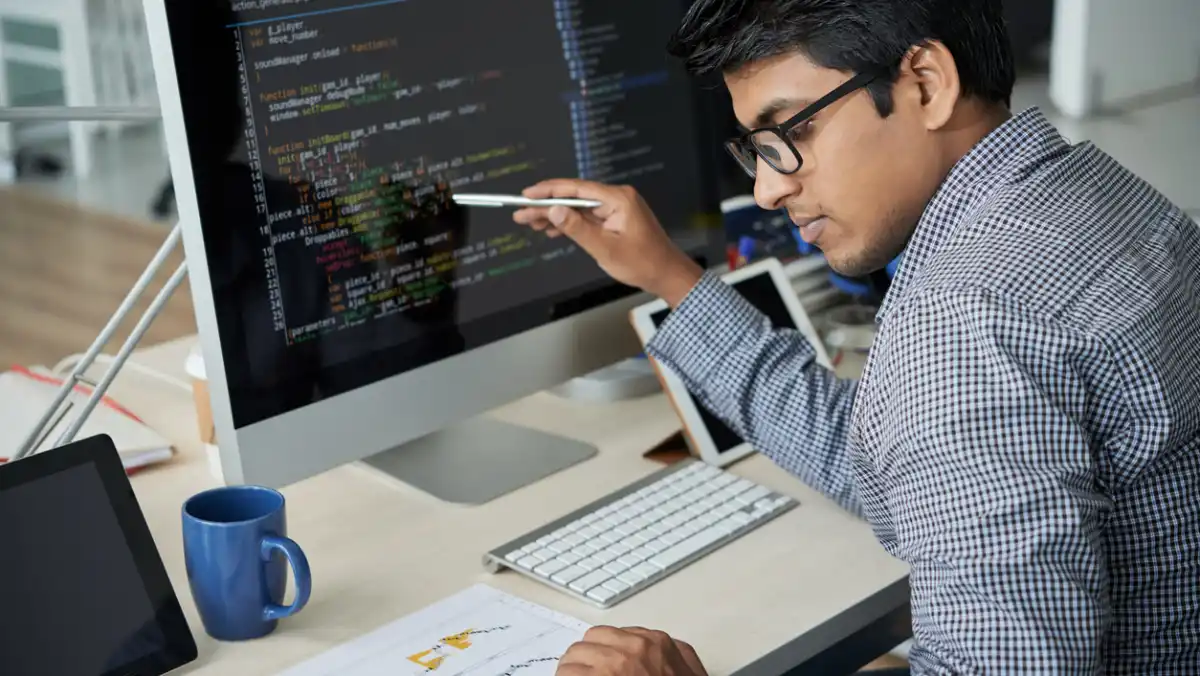 3. Seek to Work With an Ethical Recruitment Agency
Are you familiar with the term "ethical recruitment"? Simply put, ethical recruitment is a way of doing what is right in the process of attracting, engaging, and representing candidates. An ethical recruitment company:
Treats all their candidates fairly and equally.

Represents their candidates in the best possible way.

Operates transparent processes and allows visibility into everything they do.

Considers their candidates' personalities, interests, and goals when making a placement.

Values diversity and inclusion

. Doesn't tolerate

discrimination based on gender, race, origin, or religion and always reviews candidates based on their merits.

Cares, respects, and actively supports all candidates in their quest to find their dream job.
If you sign up with an ethical tech recruitment agency, you will never have to second-guess their motives. You'll know that you have by your side a valuable ally that always acts in your best interest. Such companies are worth the extra digging.
4. Seek Out Reputable Agencies with Strong Industry Links
When you're about to entrust – potentially – your professional future and success to a tech recruitment agency you haven't worked with before, you would want to make sure you're partnering up with a reputable agency with experience hiring professionals in your field. Start by checking out their website to get a good idea of what they're all about. Look at the types of jobs they have available, the companies they work with, how many years of experience they have in the industry employment market, and their success rate.
When looking for such information, Google's review section has proven to be an invaluable resource. Besides revealing clues about the quality of their services, reviews also provide insight into the agency's values and attitude towards their candidates. Their social media profiles are also something worth investigating. Their presence – or lack of it – could be a strong indicator of how well the agency can network and build relationships with other companies in the industry and whether they can make connections that could prove beneficial to you when trying to land a job.
5. Choose an Agency You Feel Comfortable Working With
Before moving on with an IT recruitment company, do thorough research on the services they provide and the policies they have in place. Also, make sure that you have a clear understanding of that agency's registration and placement processes and make sure that they align with your needs as a potential candidate.
For example, you should be able to know and feel comfortable with the following:
what do their recruitment processes involve,
how long registration takes,
how often will you hear from them,
what potential companies will they be able to connect you with,
what kind of salary to expect,
how they will market your skills to prospective employers,
how soon could you expect a placement, and
in which ways can they guide and support you before and after the placement?
Much of this information you can find on the agency's website, but it's always better if you can speak directly with a consultant. If they're not happy to answer your questions, it's a red flag you should not miss – it might mean either that they're not organised or not that willing to assist you.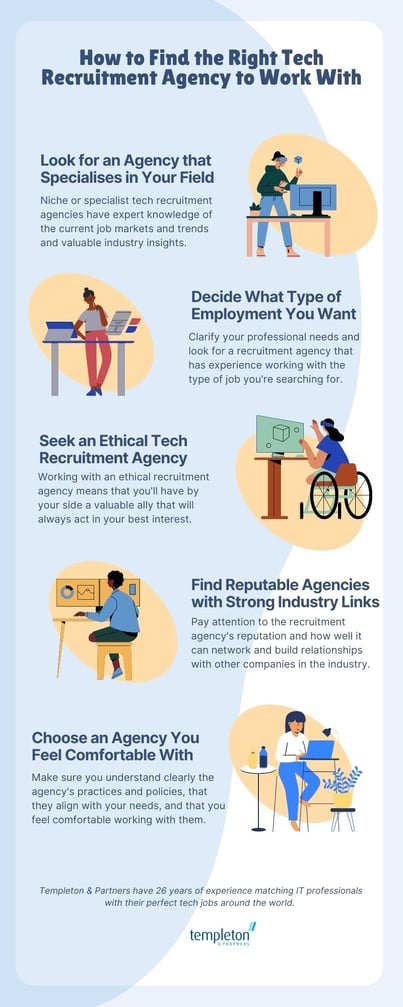 Choose the Best Tech Recruitment Agency – Templeton and Partners
As a tech professional, you need by your side a recruitment agency that knows your industry, understands your needs, and actively supports your career goals. Templeton and Partners have passed the test of time. Our experienced consultants have proven their dedication and determination to promote your strengths and expertise in the best possible ways over the years. Here's why we can proudly say that we're the expert tech recruitment agency you've been searching for:
We Are Driving Diversity and Digital Transformation Around the World – We are a diverse, global recruitment agency that matches top tech talent to international business needs.
We Are Truly International – 70% of our staff originate from outside the UK, we collectively speak more than 25 languages, and we have eight international offices. This enables us to recruit across 40 countries around the globe to reach tech professionals wherever they are and speak with them in their own languages.
We Are Built on the Principles of Diversity and Inclusion – At Templeton, we are diverse inside and out. Our 82% diverse team is BAME-led and 68% female, with gender-equal leadership. We originate from over 20 backgrounds and span four generations.
We Provide Award-Winning Recruitment Services – Over the years, we have received multiple awards in recognition of our Diversity & Inclusion programmes, international expansion and high-quality customer services.
We Have Partnerships with Leading Industry Companies – Our customers include Shell, Capgemini, Santander, Novartis, Siemens, AT&T, Johnson & Johnson, DHL, L'Oréal, and many more.
We Know Your Industry – We understand your challenges and know where your skills are most suited for your next career move.
We Improve Your Chances of Success – We get to know you as an individual first to ensure that we'll find the right job for you. We can improve your CV, prepare you for interviews, and provide valuable insight into the role and the company you're interested in.
We Are Your Best Career Advocates – Our relationships with our clients are built upon trust, which allows us to make a strong case for you. We also have the skills and experience to promote you above the other candidates and negotiate the best package on your behalf.
We Provide Ongoing Support – We fully support you throughout every stage of your journey. We'll help you settle into your new role and be your long-term partner throughout your tech career.
Templeton & Partners have over 26 years of experience matching IT professionals with their perfect tech jobs around the world. If you need guidance on any aspect of your job search, get in touch with us today!
Are you in search of the next career opportunity? Find out How to Land Your First Tech Job!