While employment opportunities in the technology sector are increasingly growing, seven out of ten business leaders report a lack of diversity in their tech workforce — BAME representatives make up just 15% of the tech workforce, and gender diversity is at 19%, compared to 49% for all jobs.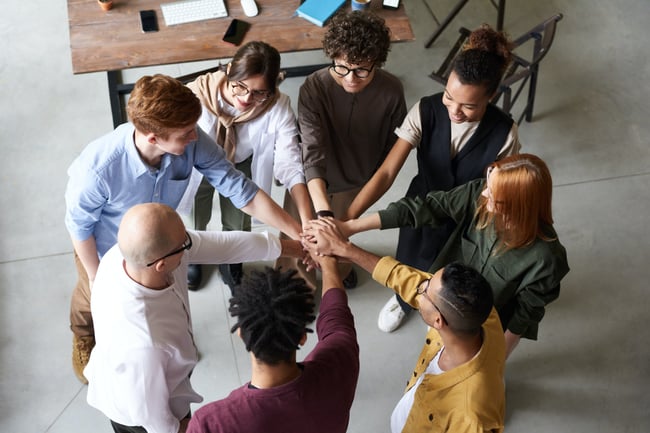 Diversity in tech is essential for businesses that wish to remain relevant to their customers as well as competitive in the talent market. An inclusive work environment provides greater opportunities for growth and achievement, while a variety of demographics and backgrounds has always been a vital factor in innovation. With the importance of diversity being gradually recognized, organisations across the tech sector have been taking steps to promote diversity in the workplace and within their hiring strategies.
However, there's still a lot of work to be done in improving diversity, both in the tech industry and in tech-based roles and professions in other industries. In this article, Templeton's tech recruitment specialists reveal why diversity in tech is so important and what companies can do to create more inclusive and diverse workplaces.
What Is Workplace Diversity?
Workplace diversity is a term used for creating an inclusive work environment that is receptive and open to every individual's differences. Companies that seek diversity in their workplaces intentionally hire a workforce that consists of individuals with a variety of different characteristics, including gender, race, religion, age, disability, ethnicity, sexual orientation and education.
However, workplace diversity isn't just an inclusion trend. It's more about allowing each employee to contribute their unique skills and experience in the process of achieving their full potential. This could have an extremely positive impact on the business and other employees, on motivation and productivity as well as on customer experience. Hence, workplace diversity is something most companies are – and should be – trying to achieve.
Discover the Initiatives that can Actually Improve Business Diversity
The Benefits of Diversity – in Tech and Beyond
Workforce diversity is a fast-growing trend in the tech world and with good reason. The value of diverse teams extends well beyond the obvious sentiment that it "is the right thing to do". Sourcing people from a variety of backgrounds and characteristics translate into sourcing a diverse set of thoughts, which is crucial for coming up with the right solutions to challenges, creative thinking and business success.
So, in addition to being a good moral choice, diverse recruiting in tech provides many tangible benefits for performance, innovation and productivity. Some of the known perks include:
A Variety of Different Perspectives
When you hire people from diverse backgrounds, nationalities and cultures, you're bringing a fresh array of perspectives to the table. This can lead to benefits like better problem-solving and increased productivity.
Better Team Performance
Having cognitive diverse perspectives in your team can help with out-of-the-box thinking when challenges arise. And facts don't lie: research has shown that diverse teams see a 60% improvement in decision-making abilities.
Wider Talent Pool
Studies reveal that 76% of employees and job seekers report that a diverse workforce is an important factor when evaluating companies and job offers. As a result, diverse companies are more likely to attract the best talent.
A Broad Range of Skills and Experiences
If you have a homogenous group of people, chances are that everything – from their thought patterns to their life experiences and problem-solving skills – is likely to be similar. On the other hand, a heterogeneous group of employees can bring unique perspectives, skills and experiences that could lead to breakthroughs in thought.
Greater Company Culture
Creating a diverse and inclusive company culture is a dynamic activity, where every choice and every voice will shape the outcome: a great culture that will attract great talent.
Increased Innovation
Innovation is crucial for any tech company and diversity plays a significant role in this. A company is much more likely to experience innovative change with a diverse team, as they have an array of different skills, knowledge bases and life experiences.
A Business for All
Diversity isn't just about race or gender. It's about background, perspective, age, education and so much more. Hence, if you want your company to serve and be open to everyone, you will need voices and feedback from all types of people.
In conclusion, it has been proven that diverse workforces are better at solving problems, avoiding biased mentalities much more effectively and driving better creativity and innovation at work. This results in better decisions, performance and results overall.
After all, the numbers speak for themselves: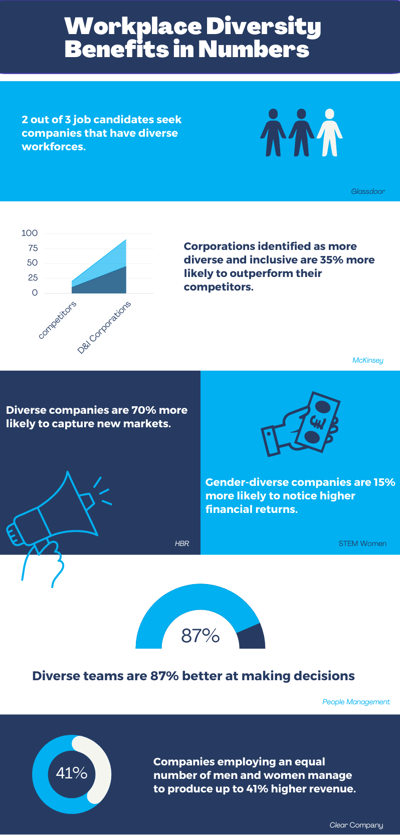 The Tech Diversity Gap: Facts & Figures
Diversity in tech is all about bringing more perspectives to an industry with large racial and gender disparities compared to other sectors. Even today, women, people of colour, individuals with disabilities as well as the LGBTQ+ (Lesbian, Gay, Bisexual, Transgender, Queer or Questioning) community still lack representation within the sector.
Here are some workplace diversity statistics that employers need to be aware of, in order to address opportunity gaps:
The Gender Gap
The Racial Inequality Gap
The LGBTQ+ Disparity
LGTBQ tech employees are

more likely to experience bullying

(20%) and public humiliation (24%) than their non-LGBTQ+ colleagues (13% and 13%).
According to a Blind report, only 35% of LGBTQ+ respondents thought they were represented by their company's upper management.
The Disability Gap
Although diversity rates have been increasing over the years, there's still much to be done. Improving diversity within the technology industry can present huge economic breaks, which could even result in £500 billion in new value for the sector. With such an opportunity, maybe companies should start evaluating new diversity initiatives to remain at the top of their game.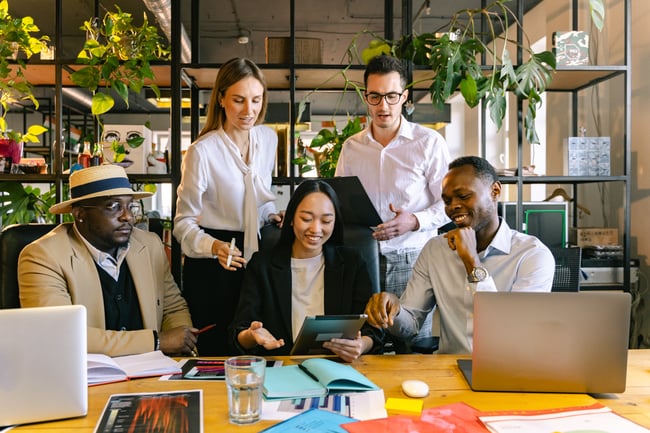 How to Recruit Diverse Tech Talent?
Workplace diversity starts with attracting and recruiting diverse candidates. A great way to ensure your company can find diverse candidates is by making your candidate sourcing, screening and hiring processes more inclusive and inviting for people with different characteristics.
Here are some tips you can implement to improve your diversity recruitment strategy.
Create Targeted Job Ads
One of the best ways to recruit diverse talent is to speak directly to a specific niche of candidates. Don't be afraid to write job ads with specific demographics in mind in order to boost your diverse hiring strategy. Let your target candidates know that you're seeking them out and explain why your company would make a great fit.
Recruit from Diverse Talent Pools
An excellent way to ensure access to a greater range of talent is to source candidates from a variety of different places. Focussing on channels that you already know can only result in a homogeneous workforce and a lack of diversity. Instead, you can seek out opportunities to connect with them directly. For example, there are many online groups dedicated to women in technology where you can post your job ads. Alternatively, you can partner up with recruitment agencies specialized in diverse top tech talent.
Encourage and Reward Diverse Referrals
Creating a diverse candidate referral program is a great way to both boost your diverse hiring strategy, and showcase that your company values different backgrounds and ideas. You can start by asking your existing employees to refer candidates from underrepresented groups in your company. Encourage them to share your job ads with their networks and give them the tools they need to promote the company. You can also offer additional rewards and bonuses for recommended diverse candidates to increase team morale and engagement.
Offer Internships to Underrepresented Groups
Many of the tech sector's leading companies have had their own internal diversity programmes up and running for years, offering scholarships and internship positions to candidates from specific backgrounds. This is a great opportunity to give back to society while gaining access to new talent to improve the productivity and innovation of your company. To encourage underrepresented candidates to join your team and get experience, you can reach out to schools, community groups or NGO initiatives.
Create More Diverse Interview Panels
Before making a decision as important as where to build their career, candidates want to feel assured that they'll belong within an organization. One interview can make or break that decision. Hence, including diverse people in your recruiting process will help you showcase the inclusive and equality principles of your company. Moreover, a diversified recruiting team will be more attentive to diversity issues and could help you uncover unconscious biases within your recruitment process.
Highlight your Company's Commitment to Diversity
Perhaps the best way to boost diversity in your candidate sourcing is to organically create a company culture that values people and opinions from all walks of life. Just by talking with your team about the benefits and importance of diversity, could create its own "Butterfly Effect", developing an employer brand that is known for its D&I values. And inclusive workplaces appeal to diverse candidates. Therefore, consider creating company policies that are aligned with your diversity recruiting strategy, such as more religious holidays and flexible work hours, and actively promote them in your sourcing process, on your career site and in every job description.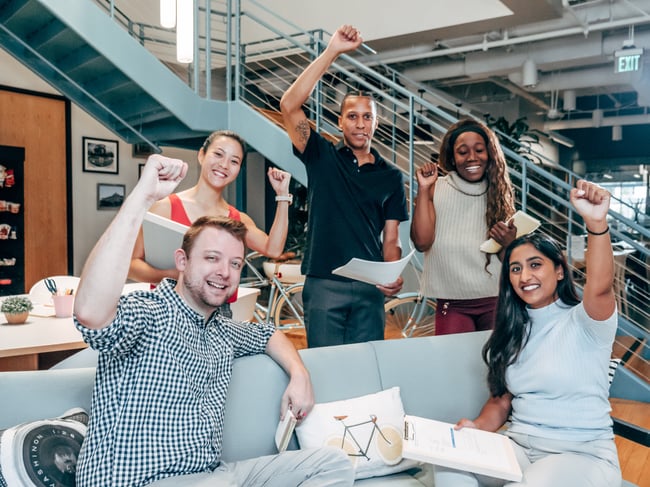 Interested in finding out more on How to Recruit Diverse IT Staff?
The Good Example – Leading Companies that Embrace Diversity
Nowadays, more and more companies understand the importance of diversity in their workplaces. In fact, Workforce Management estimates that, collectively, businesses are spending billions on diversity and inclusion efforts. Here are some sector leaders' D&I initiatives worth mentioning and – why not? – implementing in your company:
Apple has over 165.000 employees globally across its retail, tech, non-tech, and leadership roles. Since 2014, the number of employees from underrepresented communities (URC) has increased by 64%, making up almost half of the company's workforce.
In particular, Apple's latest diversity report shows an 87% increase in female employees across the world, while 34% of its leadership roles are fulfilled by women. Additionally, in 2021 the company hired more Black and Hispanic/Latinx employees than ever before. However, only 25% of Apple's leadership roles in the US were filled by ethnic minority candidates last year.
Widely regarded as one of the leading pharmaceutical companies across the globe, Novartis has a workforce of 100.000 and a strong belief that diversity is integral to its success. The company states that diversity helps them understand the unique needs of their patients and find innovative ways of addressing those. Within the organisation, they've also substituted the word "disability" with "diverseability", emphasizing that people with disabilities don't lack abilities, they just have diverse skills and proficiencies.
Diversity is also an integral part of the company's management strategy. Novartis' HR professionals are systemically trained in topics such as unconscious prejudice, inclusive leadership, accommodating disabled people and pay equity, to help them tailor their recruitment strategies accordingly.
Microsoft believes that having different perspectives in the workplace is the key factor to drive achievements and success. According to the company's website, its mission is clear and deeply inclusive: "We expect each of us - no matter what our level, role or function is – to play an active role in creating environments where people of a diverse range of backgrounds are excited to bring all of who they are and do their best work".
To advance diversity, Microsoft is increasingly partnering with minority and women-owned companies as well as intentionally pursuing candidates of diverse backgrounds. In 2015, Microsoft also launched their Autism Hiring Programme to boost the percentage of their neurodiverse employees.
According to Alex Gorsky, the company's CEO and Chairman, "the best innovations can only come if our people reflect the world's full diversity of individuals, opinions, and approaches." With this in mind, Johnson & Johnson has managed to create over the years an inclusive workplace, by introducing a diversity strategy that focused on change across all levels.
Among other initiatives, J&J has founded the "Diversity University" – a website that is accessible to all employees and gives them the resources they need to believe in an inclusive workplace. Moreover, 95% of the company's workforce takes place in their unconscious bias training and more than 21.000 employees are included in their employee resource groups.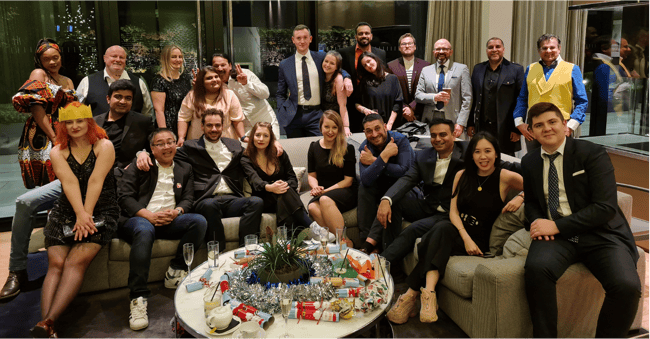 Built on the principles of diversity and inclusion, Templeton is a multi-award-winning tech recruitment company committed to creating a positive, welcoming and supportive work environment for all. Today, our team is diverse inside and out – comprised of 65% female, 30% BAME (Black, Asian and Minority Ethnic), 20% LGBT and 80% diverse overall, while representing over 20 nationalities.
As a diverse and inclusive team, we strive to provide an excellent place to work through a number of initiatives, including:
Diversity Council – The Templeton team is directly involved in everything we do to drive our company forward and help our communities become more diverse and inclusive. The Diversity Council have dedicated time to meet with each other and regularly meets with our senior management team to share their experiences and ideas. The Council supports and connects our employees, creates campaigns to educate on the importance of diversity and inclusion, and raises awareness of D&I internally and externally.
Employee Training – To ensure that staff recognise and value the fact that we are all unique, we have created an extensive programme of interactive training sessions. In these sessions, our colleagues share their own experiences as diverse people and encourage questions on their identity and background to raise awareness and help embed positive, inclusive practices in our workplace.
Support and Report Tool – True to our commitment to creating a safe working environment for all, we strive to ensure that all voices are being heard and that any discrimination is addressed immediately. To achieve that, we encourage every member of our team, as well as our candidates and clients, to anonymously report any instances of inappropriate behaviour, bullying or difficult situations (on behalf of themselves or others).
Diversity Celebrations – We put a great effort into celebrating our variety of cultures, languages and backgrounds. Through fun and educational activities, we learn more about our team and our colleagues' unique experiences, backgrounds, skills and values.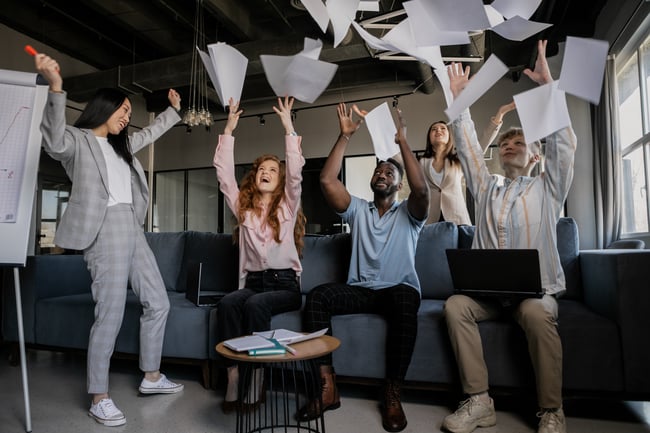 How to Get Started with Workplace Diversity
Is your company looking for ways to successfully encourage and implement workplace diversity? Templeton's have over 26 years' experience in recruiting top tech candidates from niche talent pools. – find out more about our multi award-wining recruitment services.
Need some additional guidance on how to improve your diversity recruitment processes? – Check out our 2022's Recruitment Diversity Report, in which business leaders across the UK uncover their own challenges and improvements that could drive success.