Technology now rules the roost in the business world and continues to grow six times faster than any other UK industry. Therefore, as the Great Resignation shows no sign of slowing down, a strong job market with ample opportunities becomes available for tech professionals globally.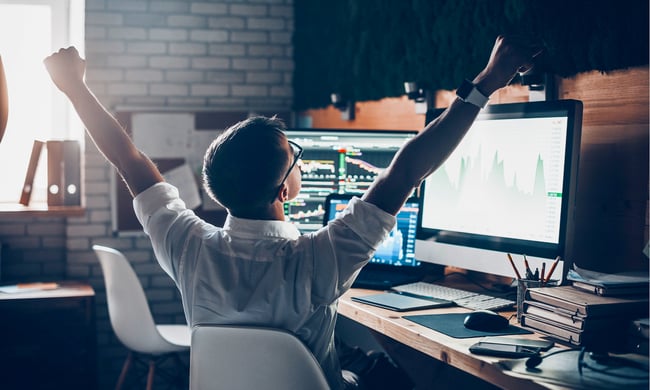 A career in IT, though, means not only working in the fastest-growing sector. Tech is also the fastest-changing industry, which rewards innovation and creativity, values culture, offers generous salaries, good benefits and a range of significant opportunities for advancement and – professional and personal – growth. Thus, if you belong to the 30% of UK workers that are looking at moving to a new job this year, tech is most definitely a sector worth considering.
Not sure if IT is right for you? Templeton's tech recruitment professionals reveal what is like working in tech to help you determine whether your skills, personality and goals are a good fit for a job in IT.
Is Working in Tech Worth It?
Technology is all around us – from voice assistants and smart coffee machines to shiny electric cars and clever AI which plan airline routes. As IT continues to be an inescapable driving force in our day-to-day lives, asserting its presence in all sectors (including finance, health, manufacturing, engineering, education and beyond), businesses couldn't stay untouched. Companies and organisations around the globe allocate increasingly growing budgets towards tech initiatives every year.
Given the industry's exponential advances, it is sparking growth in career and economic opportunities. Here are some fascinating statistics and tech facts that prove IT is a great place to be – today and for the years to come.
The Tech Industry Worldwide
The UK Tech Industry
The top five categories worldwide for technology are:
Software
Hardware
Telecoms
IT and Business Services
Emerging Tech


Benefits of Working in Tech
By the above facts and figures alone, it's safe to say that there has never been a better time to start or pivot into an IT career. In case you need more convincing, though, below are seven more reasons why a career in tech is worth pursuing.
Make A Positive Impact on the World
Whether you're creating software for 3D printers used in the medical field for implants, developing AI solutions to help farmers produce more crops with fewer resources, or just working in tech support to make other people's lives simpler, working in tech can be about purpose. As an IT expert, a big part of your career could involve giving back to society and helping people in all sorts of ways and forms if you just choose the right role and field.
The healthcare industry, for instance, relies greatly on new tech innovations to serve the greater good. Novelties, such as remote diagnostic testing and virtual health screening, wouldn't be possible without the people working in tech, from Data Scientists to Software Engineers and Solution Architects. Additionally, solutions that could optimise waste collection and minimise carbon emissions to address the ongoing climate crisis also require tech professionals who are interested in improving our planet.
Meanwhile, there are also many technology firms leading the way in making a positive impact through innovation, from medical breakthroughs to business support, financial aid and mental health services.
These are just a few examples that could translate to a rewarding career, one you leave every day knowing that you did some good, either in the lives of some people or in some corner of the world.
Tech Is Growing and Hiring
Technology is well known for evolving rapidly, leading to changes in job demands and roles, as well as in general growth within the sector.
As the tech industry has returned to its previous growth pattern of 5%-6% growth every year, the lines between the direct growth of technology and the indirect influence it has on the global economy are becoming more and more blurred. According to Bain & Company, 72% of the total market value growth since 2015 has come from "born tech" companies and businesses with a tech-led strategy.
Beyond this, there are other indirect impacts, such as the exponential growth in jobs within the tech industry. The growing demand from businesses, organisations and governments to go through digital transformation creates endless job opportunities for professionals with the right set of skills. These companies are filling both technical and non-coding roles to keep up with the future of work. For every job in IT services and custom software development, an estimated 4.8 additional jobs are created or supported through technology.
Moreover, as technology gets better, the demand for more experienced and agile IT professionals grows. As roles change and evolve, it is expected a large need for Engineers with experience in Robotics, Artificial Intelligence and Augmented Reality, as well as for tech workers with a broad range of skills, including Electronics and Embedded Software Experience, Data Analytics, and UI/Web.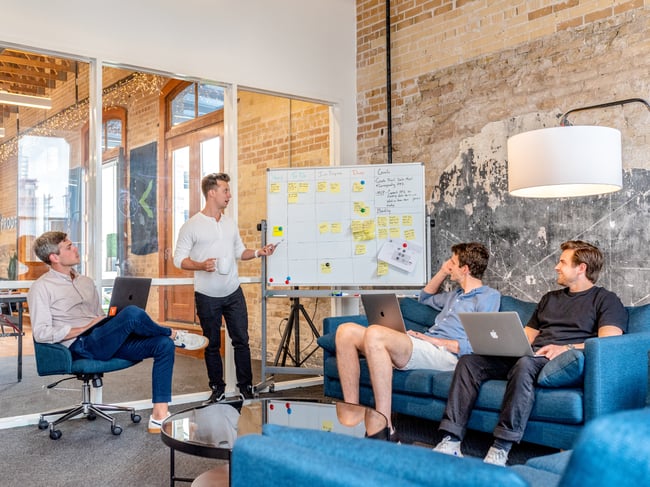 Are you interested in acquiring the latest in-demand skills for the digital world? Here are the Top 10 Tech Skills for 2023 and Beyond
Innovation and Progression
Technology is at the forefront of our ever-evolving world – and the possibilities for innovation are infinite. New, promising technologies rise all the time, demonstrating some of the huge potentials of tech to address some of the global society's biggest questions, such as how to address the challenges of climate change and resource scarcity. So, if you like the idea of working for a company that is transforming the world, these are the frontier technologies worth upskilling in:
AI
IoT
Big Data
Blockchain
3D Printing
Robotics
Drones
Gene Editing
5G
Nanotechnology
Solar PV
According to 2021's Technology and Innovation report, these 11 technologies represent today a $350-billion market, which by 2025 could grow to over $3.2 trillion.
Furthermore, the tech sector is an inescapably huge investment opportunity for both global companies and governments. In the UK, specifically, the tech sector raised the third-highest amount of venture capital (VC) investment in the world (behind the U.S. and China) and investment in deep technologies, such as AI, blockchain, and Quantum computing is on the rise. This means that there is not only room for innovation and progression but also the budget and the resources for IT professionals to play an increasingly prominent role in building the future through tech.
To summarise, the only constant in tech is change. Those who embrace the ever-changing nature of the industry and are constantly ready to jump into the next significant shift won't ever have to stick to a dull role that serves no purpose.
Lucrative Salaries
Tech jobs aren't just purposeful, rewarding and exhilarating; they also offer higher salaries than most industries, and they are only getting better. Tech professionals earn considerably high revenues due to an increase in demand for individuals with technological skills. Additionally, as the technology sector continues to develop and sweep along a faster pace in career progression, more opportunities for upward mobility emerge.
According to Time, just within the past year, salaries in the IT sector increased by 6% for all employees (both new hires and existing workers), while the wage growth for IT workers who switched jobs was 12.2%.
Below are some of the highest-paying IT jobs in the UK today for you to explore, according to Indeed:
Software architect: £72,323 per year
Systems architect: £72,190 per year
Data warehouse architect: £66,025 per year
Development operations engineer: £65,194 per year
Java developer: £62,322 per year
Product manager: £51,666 per year
Full-stack developer: £51,505 per year
Front-end developer: £50,434 per year
Data scientist: £49,696 per year
.NET developer: £47,959 per year
Cyber security expert: £47,320 per year
IoT engineer: £47,224 per year
Mobile developer: £39,881 per year
Database administrator: £39,431 per year
Flexibility
During the COVID-19 pandemic, 37% of people were working from home. Post-pandemic, even though employees could return to their offices, many companies have embraced the remote working style. However, not all roles can be remote, but that's not the case within the tech and IT sector.
Technology jobs are well known for their flexibility. Depending on the company and the nature of each role, flexibility might include unlimited vacation time, (tele)commuting from another city or country, working from home, managing your own time, prioritising your tasks, and/or freedom to pursue other passions at the same time.
Flexibility gives you the privilege to make your own schedule and achieve a bit of that work-life balance everyone talks about, and this has been a crucial step in the tech industry to induce agile working along with productive outcomes. Gartner's Digital Worker Experience Survey for 2021 found that 43% of people said flexible working enabled them to achieve increased productivity, and 30% said that spending less or no time commuting allowed them to be more productive.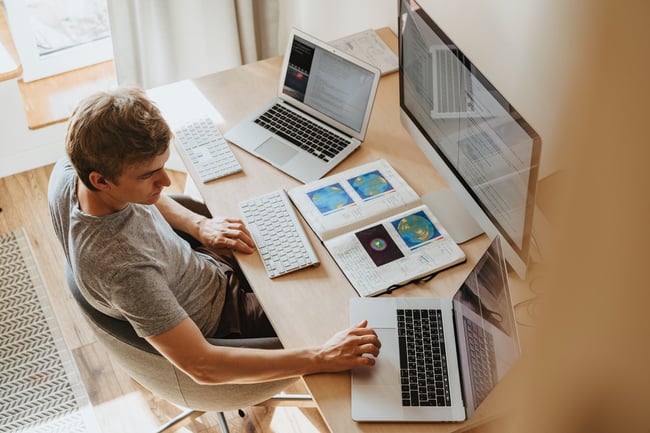 Range of Opportunities for All
The tech industry offers all sorts of opportunities, from web development and software engineering to UX and analytics. Because technology is such a broad term, IT has to cover a whole range of career paths that diverge into fascinating specialisations in the digital world. Here are six of the most common types of jobs in information technology:
Technical Support - typically handles both hardware and software issues at the user level and helps out with computer problems.
Programmers – or the "brains" behind software functions. In a nutshell, they write and test the code that makes up software programs.
Web Developers – they are responsible for building websites and making sure they are visually appealing and easy to navigate.
Computer Systems Analysts - they design new IT solutions, modify or adapt existing systems and integrate new features to improve business productivity.
IT Security - they're in charge of keeping networks and systems safe from malicious cyber-attacks by planning and carrying out security measures.
Network Engineers – they are in charge of setting up, administering, maintaining and upgrading local and wide area networks for an organisation.
Although most of the roles in the above IT job categories require technical expertise, it doesn't mean that you need to be tech-savvy or hold an IT-related degree to work in tech. Technology goes far beyond the bounds of the IT industry. Hence, there are plentiful options in the tech market to match your skill set, from graphic designers, marketing professionals and project managers, to data scientists and researchers – to name a few.
Tech Is Investing in Diversity
In today's world, consumers have greater expectations for products and services that cater to their unique and diverse needs. At the same time, employees are also demanding more inclusive workplaces that value diverse principles, experiences and skills. In tech, this is even more evident, and the commitment to inclusion and diversity in the sector becomes crucial.
For technology to remain relevant to all the different people that it needs to help as we go forward in the future, businesses need to constantly invest in bringing in more perspectives to better represent all the people they're serving. A more diverse tech workforce means many different perspectives and access to wider and more diverse and creative problem-solving skill sets, which are key to innovation and progression. In other words, diversity in tech matters.
However, there is still a lot of room for improvement when it comes to diversity in the tech industry. Statistics show that underrepresented groups, such as BIPOC employees, women and members of the LGBTQ+ community, are still facing discrimination and inequality at work.
Gradually acknowledging the benefits of diversity in tech, companies around the globe are now working hard to create more inclusive work environments. Many businesses within the sector are actively trying to address diversity gaps by releasing annual workplace statistics and restating commitments to improving inclusion and equality. In many cases, they also join forces with other organisations to address diversity in the market, giving participants mentorship, visibility and extra support. Moreover, the global market for Diversity and Inclusion (D&I) is projected to reach a revised size of $15.4 billion by 2026, while companies are spending billions per year on diversity and inclusion training.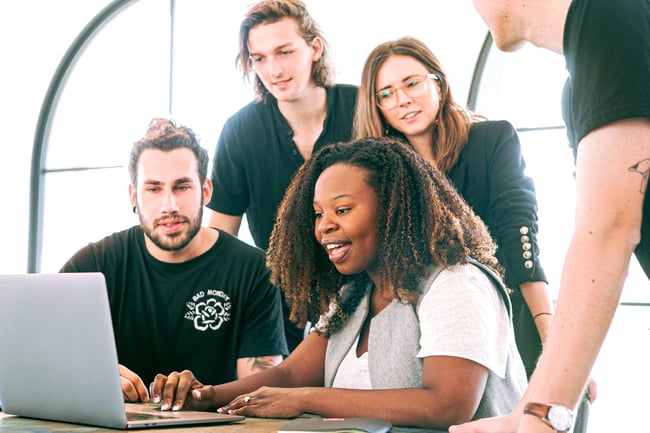 Are you aware of the difference differences can make? Discover The Power of Diversity
Women in Tech: The World Needs You
The technology sector needs more women, as gender inequality remains a major issue in most organisations and societies as well. Being a woman in IT is not always easy, but it is definitely rewarding. It means that you could play a major part in making a positive impact and shaping the future of the entire industry by:
Even though there is a great deal of research indicating that companies are more profitable if they have more women in the C-suite, the technology sector is dominated by men (73.2%). In addition, 63% of women cite "being taken seriously" as the number one challenge in the tech industry. Considering the above facts and figures, it is more than clear that there is still a lot of work to be done to improve gender diversity in the industry – work that could start by getting more women into technology careers.
Women alone control over $43 trillion in global consumer spending. However, the majority of them report feeling underserved. This is mainly because women are not adequately represented in decision-making processes within different industries. So, to successfully build and target high-tech products and services to half of the world's population - which is women – the tech sector needs more women designing and developing them.
Creating More Female Role Models
To encourage more young girls to pursue their interests in IT and increase gradually the hiring pool diversity, we need to ensure that they're having strong role models of other successful women in tech. Thus, just by being a woman in tech and celebrating female IT leaders, you can make a positive impact in many lives – the best thing about being a woman in tech.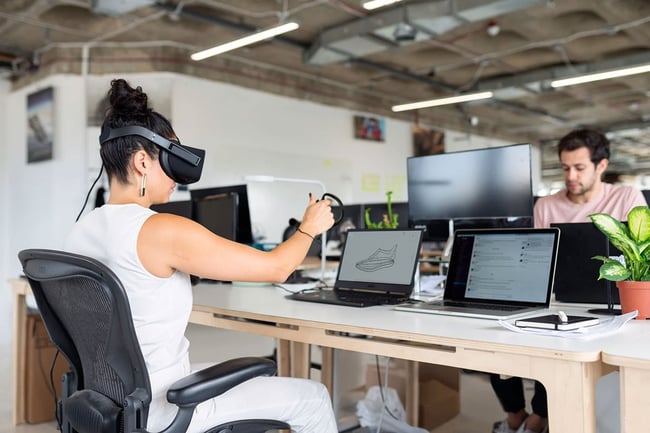 So, Is Tech the Right Industry for You?
Technology is the most promising sector for job seekers today - the sector where you will be right where growth and disruption are happening - so if you're thinking of joining an ever-changing field full of innovations and potential, then your answer might be "yes".
Ready to discover your next career opportunity in tech? We have 26 years' experience matching skilled tech specialists with new IT job opportunities - Find out how we can help you.
You can count on us to keep you updated about the latest news and career opportunities in tech and IT. Just follow us on LinkedIn.