As a diverse and international recruitment agency, we believe in equal opportunities for everyone, regardless of background, experience or Academic status.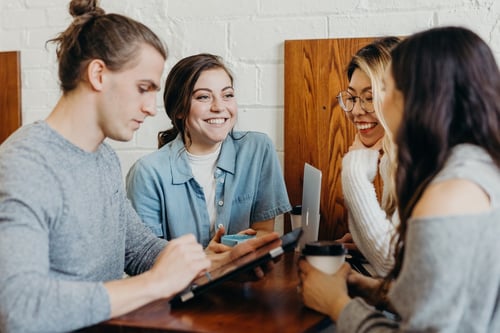 Through our Apprenticeship Programme, Templeton offers a variety of learning and training opportunities to young people around the world. In 2021, Jesse completed a six-month internship in our Netherlands team to start his career as a recruitment consultant. When Jesse's internship finished in July 2021, Templeton caught up with him to find out about his experiences.
Intern Recruiters: Jesse's Experience
Congratulations on completing your internship, Jesse! How was your experience at Templeton?
In the beginning, I was a bit overwhelmed with so much to learn, but the team in the Dutch office were amazing. I got up to speed very quickly because Templeton was so welcoming, taking the time to teach me how everything worked and what my role would be. My manager Caroline and the Dutch team were very open and encouraged me to share any problems, challenges or ideas. I felt really supported and part of the team in no time.
What activities and responsibilities did your internship involve?
I began by getting in touch with our Netherlands-based tech contractors to build relationships, offer careers advice and see how we could help them find their next job. After a week, I put my first candidate forward for a client interview, thanks to the help and encouragement of my colleagues.
My time at Templeton involved learning a lot about the recruitment and tech industries, as well as connecting with candidates and helping to recruit for Templeton's tech opportunities in the Netherlands. The majority of the roles I covered included Java Developers, iOS Developers and Android Developers.
Which aspects of your time did you enjoy the most?
My manager and colleagues gave me a lot of personal coaching and training: I feel like I've come to know the tech recruitment industry and its trends and challenges really well. Templeton also provided me with proper career advice based on the skills I've learned and what I want to achieve in the next few years. Since starting my internship with no idea how to establish a recruitment career, I now know what will be involved and what will be expected from me in a full 360 consultant role, as well as focusing on business development or candidate resourcing.
Templeton is a very open, helpful and warm family. My positive experience extended across all of Templeton's five global offices, including Founder & Managing Director Nadeem and Group Commercial Director Mike Beresford, who are based in the UK. I met both Nadeem and Mike over Zoom before I started. I knew from our first conversation that Templeton would be a great place for me: Nadeem and Mike were great to speak with, they were completely transparent about what Templeton could offer me and made sure that I would get everything I wanted out of the internship. Throughout the six months, I continued to have consistent, close contact and support from Templeton's Board, the Netherlands office and the whole international team.
Once Covid-19 restrictions were removed, we all got together safely to have drinks and catch up outside after work. Getting to know my colleagues better was really nice, and I've very much enjoyed Templeton's Euro competition to celebrate our international diversity (our team originate from over 20 different nationalities globally).
What are your career goals for the next few years?
Although I want to pursue higher education next, I would love to begin a career in tech recruitment and return to Templeton soon. HR and recruitment in the Netherlands are changing a lot and becoming even more people-related: I consider myself pretty social and like to be surrounded by people, so I want to use these skills to build a good foundation for a career.
My internship at Templeton was a great match for my personality and my career goals. Recruitment is a very good career for someone who doesn't just want to stare at a computer all day but actually talk to people and actually get involved in people's lives.
What would you say to someone who was thinking of starting an internship with Templeton?
Do it! It's been amazing. Everybody is so open, friendly and helpful, and it was great to meet so many different people from different backgrounds and locations. I came here after studying at University, but Templeton offers opportunities for everyone at all stages of life and education, so don't miss out.
I wanted to say a big thank you to Templeton and especially Nadeem for giving me this opportunity. I have learned so many skills and had such a great experience.
Apply for a Recruitment Internship with Templeton
Interested in a career where you can build relationships, learn about the fast-growing tech industry and truly make a difference every day? Send your CV to our Founder & MD, Nadeem Ahmad, at nahmad@templeton-recruitment.com.
Find out more about our diverse international recruitment agency.