We are delighted to announce that Templeton & Partners have been selected as Finalists for the category of Diversity, Equity & Inclusion in the Reuters Responsible Business Awards 2021.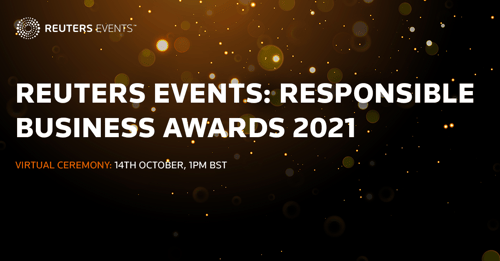 Reuters Responsible Business Awards
The Reuters Responsible Business Awards recognise organisations around the globe who do the right thing for their customers and the world. The programme champions businesses across industries that are investing and excelling in sustainability, communications, responsible supply chain and ESG.
The world's leading celebration of responsible business excellence, the Responsible Business Awards recognise those that are truly having a positive impact on business, society and the environment – delivering a new blueprint for business in the 21st century.
Shortlisted for Best Diverse & Inclusive Recruitment Practices
Organisations across the world lack a shortage of diverse tech talent, which is limiting innovation, business growth and customer experience. Leadership across industries is also under-representative of communities and workforces: even in 2021, only 5% of UK SMEs are BAME-led and 2% of FTSE 250 CEOs are female.
Diverse, BAME-led and 65% female, Templeton's team have first-hand knowledge and understanding of diverse candidate needs and challenges. Our recruiters are uniquely placed to help candidates succeed through the recruitment process and help clients build diverse recruitment strategies to make tech and business more diverse, one leader at a time.
Truly international, we work across 40 countries, 70% of our staff originate from abroad, and we speak 25 languages, empowering us to deliver the best skills across the world.
We are proud to be featured in a Reuters Responsible Business category shortlist boasting some of the world's largest and most successful companies, including:
Britvic

Coca-Cola

IBM

PepsiCo

T-Mobile

Walgreens-Boots Alliance.
Other Finalists across categories in the 2021 Awards include large global household brands spanning different industries and sectors, such as:
Apple

Aviva

BT

Deloitte

Formula E

Keurig Dr Pepper

Mondelez

Natwest Group

Novartis

Pernod Ricard

S&P Global

Tata Consultancy Services

Virgin Media 02.
Award-Winning Tech Staffing Services
In the past year, Templeton have been shortlisted in multiple Awards programmes, including the UK Business Awards, International Customer Experience Awards and the TIARA Recruitment Awards.
We recently received a Global Business Excellence Award in the category of Outstanding Business, and our CEO and Founder Nadeem Ahmad was named Outstanding Entrepreneur of the Year in the Best Business Awards 2021.
Find out more about our award-winning recruitment services.
Discover 5 Career Lessons from Some of the World's Most Inspiring CIOs.