When people think of a good workplace, they often picture an organisation with lavish perks, fancy parties and amazing benefits. While those elements are indeed excellent and welcome, Templeton's definition of a boosting workplace goes far deeper than that.
Being successful in building and retaining happy employees for over 26 years, it's safe to say that Templeton has managed to identify and implement the key elements that make going to work each day fun, rewarding and challenging for everyone.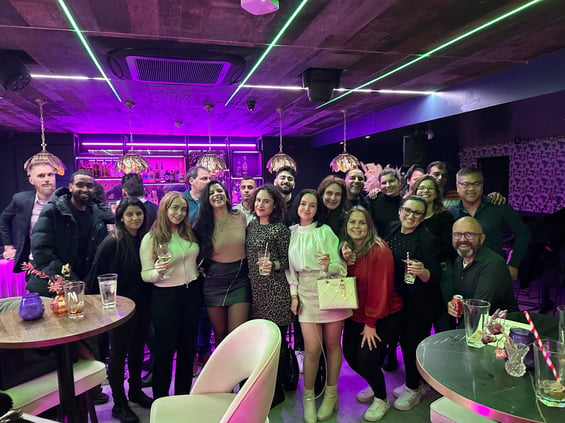 So, if you're looking to land your next exciting career in a recruitment agency with happy employees, good benefits and positive company culture, you've landed just in the right place!
Keep reading and find out how to identify the signs of a great place to work, as well as what our wonderful people have to say about their experience of working at Templeton.
But first things first…
What Makes a Company a Great Place to Work?
This is a question often asked by active jobseekers, dissatisfied employees, as well as by aspiring organisations that recognise a growing shift in the market from profitable to personable.
While employee satisfaction in the workplace is an ever-increasing demand - and also a major element that could effectively lead to improved organisational productivity, decreased employee turnover and reduced job stress - only 36% of employees feel engaged and happy in their workplace, according to the latest Gallup report.
So, whether you feel unhappy with your job or you're searching for a fun, supportive and challenging workplace where employees feel engaged, creative and happy, these are the signs you should be looking for in your next workplace:
The Best Workplaces Have the Best People
Businesses that understand the value of a diverse team and acknowledge that a workforce with many perspectives is more likely to produce exciting ideas and creative solutions. Those kinds of businesses connect people to a purpose, inspire them to make a positive difference in the world and foster an inclusive and transparent culture are highly attractive to talented employees, and people typically stay there long term. So, if most of the people in your industry consider working for a particular organisation to be their dream job, then that organisation is probably a good place to work.
The Templeton Way – Templeton is known for hiring diverse, positive people and respecting their unique capabilities, skills and talents over experience. We are an international recruitment agency with a diverse group of skilled and motivated people who are clear on our company's purpose and the role they play in achieving it.
Diverse and Inclusive Culture
Over the last few years, companies are discovering that by supporting and promoting a diverse and inclusive workplace, they are gaining benefits that go beyond the optics. The latest McKinsey's business case for diversity, equity, and inclusion (DE&I) "reaffirms the strong business case for both gender diversity and ethnic and cultural diversity in corporate leadership—and shows that this business case continues to strengthen". In fact, the report shows that "the most diverse companies are now more likely than ever to outperform less diverse peers on profitability".
The Templeton Way – Diversity and inclusion have always been at the core of our business. While most companies are just transforming to fit recent D&I trends, Templeton was founded on these principles over 26 years ago, finding and engaging skilled candidates across groups and backgrounds. Unlike most recruitment agencies, we are:
68% Female – with 50% female leadership
52% BAME (Black, Asian, Minority Ethnic)
70% International – Our team originate from around the world and collectively speak 20+ languages
10% LGBT+
Social Mobility Inclusive – 35% of us originate from disadvantaged backgrounds
Diverse Overall – 82% of our staff identify as diverse.
Supportive Environment
A supportive and caring work environment improves morale and motivation, promotes emotional, physical, and mental well-being and makes employees feel appreciated and valued. Thriving companies try to meet their employees' financial, mental, physical and emotional needs and, as a result, employees appear more productive, satisfied and willing to stay at the company long term.
The Templeton Way – At Templeton, we care about and support our people, while also challenging them to grow with and within the company. We provide coaching, mentoring and training from experienced colleagues, support whenever needed and celebrations of our wins and success.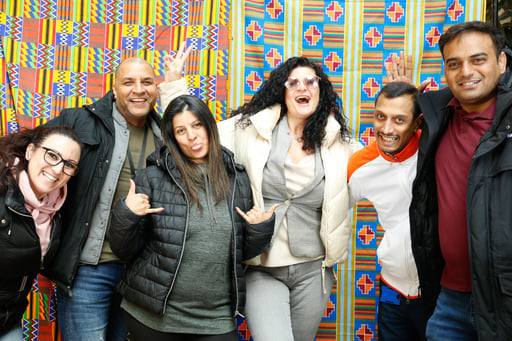 Rewards and Benefits
Research findings reveal that, on average, "employees who are most happy with their workplace benefits and rewards are up to a fifth more engaged than those who are least happy" (Employee Happiness Index 2018). According to the same research, employees who receive more than 20 benefits are 17% more engaged than those who receive fewer than 10. So, the data makes it clear that not just quality, but also quantity can make a huge difference. Additionally, companies using incentive programs report a 79% success rate in achieving higher levels of employee satisfaction when the correct reward is offered.
The Templeton Way – At Templeton, we recognise that rewarding our people is one of the best, most effective ways to boost their morale and keep them happy. In addition to some of the highest starting salaries in the recruitment industry, generous commissions and private healthcare, we offer amazing benefits, including:
Prizes for every deal
Team lunches and nights out
Holiday on your birthday
Casual dress code
Gym memberships
Early finish Fridays
Work from home days
A wide range of discounts and experiences and many more!
Personal & Professional Growth Opportunities
Smart businesses invest in their employees and help them grow. A great place to work might offer employees professional and personal development opportunities such as time and resources to pursue a new degree or pick up a new skill, free seminars, conferences and classes, skills and management training, as well as personalised career plans.
The Templeton Way – Our managers create and deliver bespoke team training programmes and sessions for each individual to support their career as well as their life goals. We offer weekly and 1-2-1 training sessions, Personal Development Plans -tailored to your strengths and preferences, continuous promotion plans and dedicated support every day for life and career advice.
Templeton & Partners: A Multi-Award-Winning Workplace
Templeton has over 26 years of experience in recruiting for £billion global businesses across 40 countries. We're a diverse tech recruitment agency on a mission to make tech and business more representative of the world and its communities.
Leading the way in developing award-winning workplace cultures for all, Templeton received the 2022 British Quality Foundation Award for Diversity, Equity and Inclusion, the 2023 British HR Awards for Best Diversity & Inclusion Initiative, and more!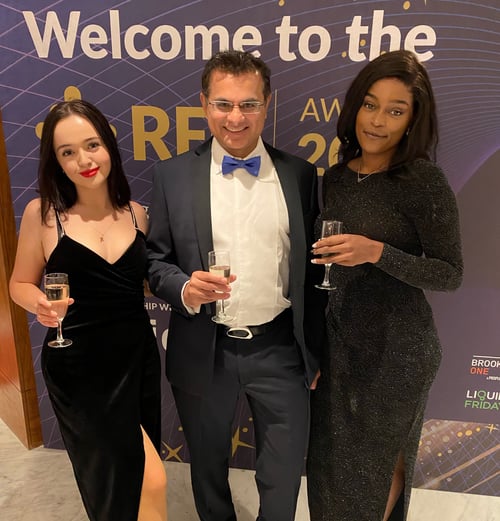 10 Reasons Why Templeton Is the Best Place to Work
With 8 offices throughout the world, we have a fun, friendly and inclusive working environment, and it shows. Thirteen members of our teams in London, the Netherlands and France shared their experiences, and each one of them had their own reason to believe that Templeton makes a great place to work.
Ready to find out?
Wonderful People
"At Templeton, I felt part of a friendly, collaborative team since day one. Everyone was so welcoming, helpful and supportive. The team is such a wonderful group of people that works hard, win together and truly enjoy the journey. It's so amazing being around so many positive and happy people who will manage to cheer you up even when you're having the worst day."
Alex – Recruitment Consultant
"When I first started at Templeton, I hadn't managed to close a deal for 6 full months. I was experiencing it extremely badly and the racism I had to endure from my surroundings wasn't complimenting my situation. That was my breaking point. Not long after that, though, I found myself being in charge of the entire India market, closing 44 placements in less than 5 months and – today – leading a team of 6!
I wouldn't have achieved any of this without persistence and hard work, but most importantly without the support of my colleagues and management. Emile (Senior IT Consultant) was – and remains still – my best buddy, Serena (Senior Consultant) was my strength, but Nadeem (Founder and CEO) is the reason I'm still working at Templeton. When it was the easiest for him to let me go, he was patient and believed in me more than I believed in myself. We disagree a lot, but we share a very special bond. So, from my experience, the greatest thing about the company is Templeton's amazing group of people, who will guide and support you, be your friends, celebrate with you or hold you when you're about to break."
Mark – Head of Team India
Truly Diverse
"It's really important to work for a company where diversity is respected and celebrated. I enjoy coming to office every day and hanging out with so many unique people from so many different backgrounds. We learn so much from each other, but most importantly, we learn how to respect each other's unique needs and qualities. Our offices are social, energetic and diverse environments where everyone feels supported and encouraged to achieve their best."
Camila – Recruitment Consultant
"Templeton is unlike any other recruitment company that I have worked for. We are truly diverse and inclusive. Our goal as a company is to place diverse tech people into positions across different industries and make the world of tech more inclusive of the different people that it needs to help as we go forward into the future. In the past year we expanded into Poland, India, France and the US, joining our other 4 offices.
The only reason that we can grow so fast and take on massive global clients is because we have this agile team of really diverse, creative, empathetic and committed people, who can serve all these different communities. We run frequently surveys to measure how diverse and inclusive we are as a business to make sure that we represent all the people that we're serving. We actively look for diverse people, from different backgrounds, with different experiences, knowledge and skills to share, both internally and externally as well. This means that our culture is really diverse and representative of different communities and areas of the world."
Aimee – Marketing Director
Truly International
"Templeton gave me the opportunity to work in a truly international environment. Being able to interact daily with people from different cultures, backgrounds and languages is really inspiring and makes you instantly travel with your mind across the globe. So, if you want to meet people from all over the world, our office will be your happy place."
Anne-Laure – Delivery Consultant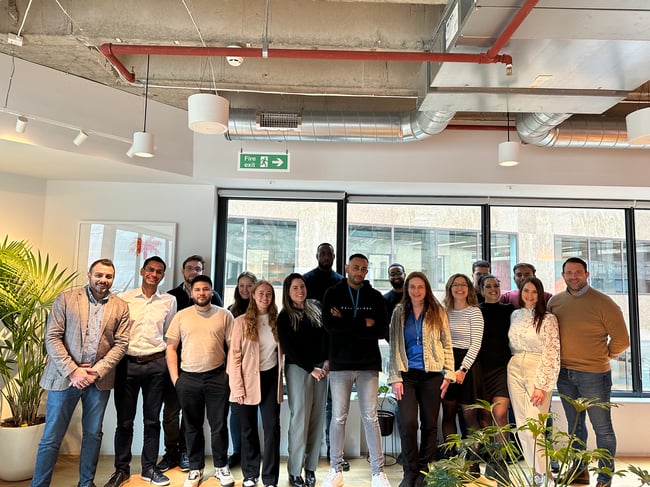 "We work with world-class clients and candidates in 40 countries. The reason we are able to do that is that we have 8 different offices across the world and we have people come from a wide range of different backgrounds. We speak about 25 languages internally, which means that we can connect with candidates, clients and communities across the world. It's really rewarding internally as well, because as an employee at Templeton, you get to learn so much about different people's perspectives, traditions, cultures and languages. It's such an enriching environment! We are truly global, really international, as well as diverse."
Aimee – Marketing Director
Wins to Celebrate
"Our office is a social, energetic and fun place, where our hard work, success and wins are recognised and celebrated. Starting small, whenever we book an interview or get a deal, we have a little bell that we ring and everyone gives you a round of applause and congratulates you. And then, when a deal is closed and confirmed, we have the gong (which is a huge noise) and you get to 'Spin the Wheel' (which is great) and win prizes like food and clothes vouchers, cooking classes, extra annual leaves or free lunches where everyone celebrates together. Or, when someone new joins the team, we'll do a celebration for them. It's nice for new people to see that even our smallest wins get rewarded and celebrated – like a motivation for them to succeed as well."
Ellie – Recruitment Consultant
Discover more about the experiences of Templeton employees.
Forward-thinking & Supportive Leadership
"I've been working for Templeton for almost a decade now and it has been such an amazing journey! I started as a resourcer in Templeton's London office, I've also worked in our China office, and I'm now based in Germany managing a global team. Balancing a full-time career as an Associate Director with being a mother of two can be challenging, but there are no limits to what you can achieve when you have people believe in and support you."
Karen – Client Development Director
"Management shares the same office space with the rest of the team. There are no walls, doors or other barriers, either physical or metaphorical, to separate them from the rest. They are transparent and reachable at all times, setting the example of good behaviour, hard work and having fun. It's really nice going out for drinks with your team leader or the CEO after work and speak about whatever at the end of the day as friends. This is only an example of how open-minded and approachable our management is. They are also a management that doesn't measure people based on how much they bring in the company. They're a management that rewards, motivates, values and appreciates, by always coming up with new ways to say thank you to their employees, apart from saying thank you."
Jennifer – Delivery Consultant
Great Culture
"It's such a delight to work in such a diverse and inclusive environment, where you can feel accepted and valued for who you are and you can sense that every opportunity is genuinely equal, with no favouritism or politics. The company promotes a highly supportive, collaborative and caring culture, where everyone enables and celebrates your success (and we do have lots of opportunities to celebrate together!)"
Ian – Management Accountant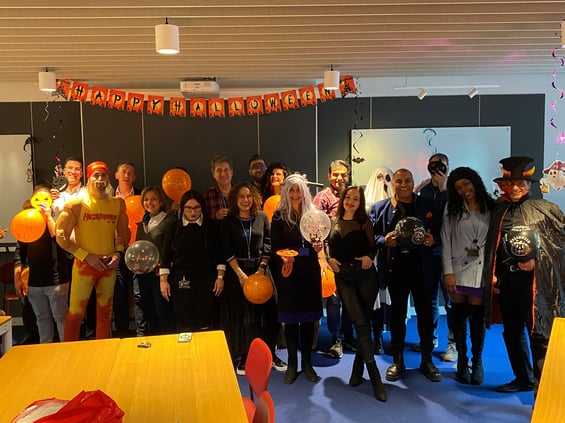 "The thing I enjoy the most is the office's vibrant and fun environment. I used to work for a different recruitment company in the past, but it was nothing as inclusive and diverse as Templeton. I've been enjoying so much being around people with different backgrounds, different languages, cultures and values. It brings this positive vibe around you. When you're achieving something, everyone will be cheering for you. That's the best feeling ever! Everyone is celebrating together in that sense. This is a very positive and healthy environment to work and prosper".
Jose – Recruitment Consultant
Liberty to Be 100% Yourself
"Everybody has the liberty to bring their own ideas on the table. The management is so helpful and reachable at any time. They will listen to your ideas and if it's good they will implement it. I feel I can be completely myself among my colleagues and managers. You can be completely transparent and completely yourself. They will give you the platform to work on your own, with the responsibility. If you want the responsibility and deliver, this is the right place to work. I have the flexibility to work in a way that is suitable for me, but if I have a problem I know that there will always be someone there that has my back."
Rohin – Delivery Consultant
"I feel embraced by my colleagues and managers/directors to always be myself around the office. This allows them to get to know me better as a person - not only as an employee – and also gives me a sense of freedom in my workplace. It's extremely liberating to know that being yourself matters more to the people around you than how you look or what you say. Everyone can wear whatever they feel comfortable in and voice their opinions, ideas and experiences openly, as well as in anonymous surveys, which help us improve and grow, both as a business and as individuals."
Liliane – Principal Consultant
Profound Perks
"Templeton offers some of the highest starting salaries in the recruitment industry, generous commissions and a different prize for every placement for recruitment consultants, as well as bonus structures for management and support staff. Of course good compensation matters, but the other benefits I gain from this job are way more important to me. First of all, our workplace is situated in the heart of London, which makes it so easy to commute. I also get to work around people from different nationalities, discover various cultures and learn new things every day. Additionally, we get private health insurance plans and a range of regular rewards, discounts and experiences, such as additional annual leave day on our birthday, gym memberships, free exercise classes, casual dress code and pet-friendly policy - amongst other things. "Work from Home Wednesdays" and "Early Finish Fridays" are also great!
Jennifer – Delivery Consultant
Fun (Loads of It)
"We have team lunches, drinks together and many rewards for everyone to enjoy. Team is a highly valued concept around here and we believe in working together and growing as a team. We participate in many fun team bonding activities, inside and outside of the office. The premises are also fantastic, enabling us to socialise together whilst playing pool, ping pong and foosball."
Olivia – Principal Account Manager
"The open-space office plan really helps keeping up the happy, vibrant atmosphere. We all work together– which also makes the communication between us faster and easier – we joke and laugh a lot. That's one of the perks of working with young, positive people. We go for coffee and lunch together and we also have "Thirsty Thursdays", when we get to bond and have fun over a glass of nice, cold beer. When 90% of your day at the office you're having a good time, you go home happy, knowing you shared some precious moments with great people."
Alex – Recruitment Consultant
Growth Opportunities
"This is a business that strives to help every member of the team achieve their own personal and professional ambitions. My personal experience with the company is a very interesting one, actually. When I first started I was very impatient to get results. Over the time, with Karen's (the company's Service Delivery Director) and Mike's (the company's Group Commercial Director) support and guidance, I managed to see a different perspective of how to get thing done by being more patient, whilst getting better and developing in my role.
I think also from leadership, Mike and Nadeem, you get many opportunities to show what you can bring to the table, but also encourage you to get better and provide all the training and support you need to succeed. My role – for example – has changed over the course of the time that I've been working here. Now I'm more autonomous, meaning that I get the role and what I need to do, but they trust me to deliver in the way that they know I can. Even from the early stages, you get to have a clear career path, tailored to your strengths and preferences and personal goals. From the beginning, Nadeem (the CEO) will ask you what are your ambitions and then they will try to find the right roles, to ensure that you will keep working on your goals and developing in your career as well. This is definitely an environment where everyone is supported and encouraged to achieve their best – both personally and professionally."
Liliane – Principal Consultant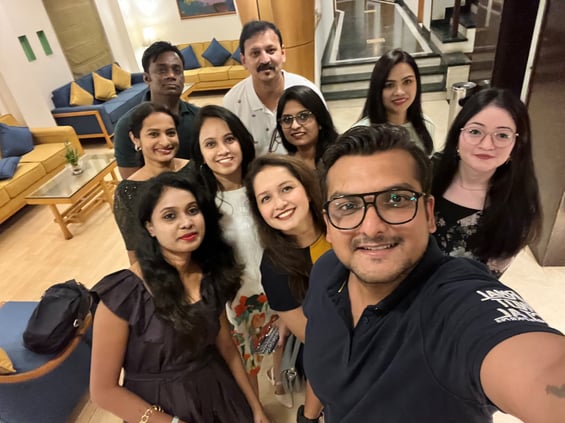 Need More Reasons to Join Us?
Want to land a successful career in recruitment, working for a company that truly invests in your development, provides opportunities to work with world-class clients and candidates and places your happiness and well-being as their top priority?
We invite you to learn more about Templeton and become part of its vibrant, multicultural and diverse team. Send your CV to mail@templeton-recruitment.com and start your career with Templeton today.
Not sure if this is the right career path for you? – Here are 5 reasons to consider a new role in recruitment