Global shortages of skilled IT professionals – the number of unfilled vacancies is predicted to reach 85million by 2030 – and lack of home-grown talent is driving many business leaders to look overseas when staffing new tech teams.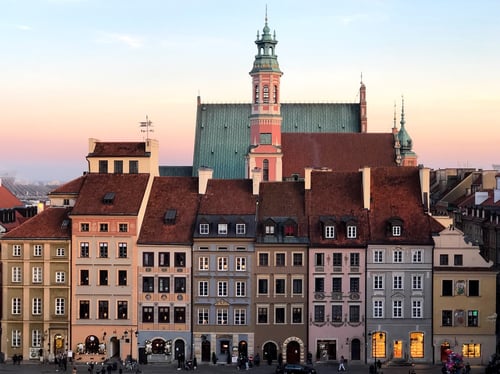 What is IT Offshoring?
The practice of basing some or all of an organisation's resources overseas, offshoring IT hubs involves delegating technology functions to skilled IT specialists who are based abroad, but are still employed by and able to support the organisation. Whilst offshoring in some manufacturing-related functions has declined in recent years with efforts to reduce carbon footprint, outsourcing technical skills – where expert IT professionals can work remotely or in an offshore hub – is growing in popularity due to the business efficiencies it delivers.
Nearshore outsourcing refers to an outsourced hub in a neighbouring country which is just a short distance away from a company's main headquarters. This option is increasingly popular with companies based in Western and Central Europe, who are choosing to tap into rapidly growing talent pools in Poland.
What are the Benefits of Offshoring Your IT Teams?
Access & Availability – With skills shortages permeating most of the world's largest economies, emerging economies present existing IT skills that have not yet been harnessed by the competition. The speed of globalisation and digital transformation has seen governments around the world invest much higher sums into creating the technology skills that will address this very problem. India, Vietnam and Singapore have all invested significantly in training up technology skills in their populations – and each hosts a plethora of start-ups acting as talent hubs – who are able to provide the same high levels of expertise that companies based elsewhere would expect of their existing workforces.

Labour Savings

– Offshore IT specialists can optimize tech and digital transformation costs without compromising quality. Post-pandemic, even global market leaders are considering cost-reduction methods such as outsourcing. A 2020 Deloitte survey shows a sharp increase in the number of organisations prioritising cost reduction, and predicts that due to global recessions following Covid-19, outsourcing will continue to gain traction. Outsourcing IT labour also enables employees overseas to markedly increase their take-home pay when compared with rates paid by locally based companies, presenting an ethical and efficient solution for all parties.
Fast Recruitment & Talent Acquisition –

In many regions ideal for offshoring, programmers, developers and engineers are much faster to hire than in-country employees.

Instead of conducting extensive recruitment searches that last several months, businesses can instantly widen talent pools by multiple thousands. Engaging these skilled specialists through a remote recruitment and interview process, these professionals can hit the ground running and help businesses to deliver projects on-time and in full without compromising on quality. Offshoring helps companies save recruitment and associated resource costs, and get ahead of delivery deadlines to benefit customers and stakeholders.
Why Offshore to Poland? – Poland's Tech Talent Pools
Depending upon average local salaries, companies could enjoy as much as 77% savings on labour costs by offshoring to Poland, whilst benefiting from untapped IT knowledge and experience. Swiss-based and North America-based companies stand to receive the highest benefits due to developers and engineers commanding some of the world's highest annual salaries in these locations.
Poland has the largest foreign workforce inflow in the EU, increasing competition for work despite high employment. Large volumes of Polish nationals are returning to their home country following Brexit and pandemic uncertainty, further increasingly the rapidly growing talent pool:
Almost 500,000 people work in IT in Poland.
Poland is the largest IT hub in Central & Western Europe – 20% of all European IT specialists are Polish
The country produces 71,000 IT students and 11,000 IT graduates every year.
The country experiences a 10% annual increase in software developers.
In addition to the volume of talent available and currently being trained, the levels of skill and expertise are high. In 2020 Poland ranked 14th in the world for technology skills and 20th in the world for data science skills. Poland ranks 4th for globally competitive coding skills in HackerRank's best worldwide developers report, which conducts real-life tests to measure ability as well as education and years of experience. 99% of IT specialists in Poland are degree-educated, which is significantly higher than the EU average of 81%, evidencing the dedication and abilities of the nation's IT professionals.
Numerous factors drive the country's destination as a bubbling hub of tech talent. The nation is home to many world-leading Universities including the Warsaw University of Technology and Jagiellonian University, and the calibre of education has encouraged higher numbers of international students to flock to the country to study and stay on after graduation.
A survey by Polish job board No Fluff Jobs recently found that Polish IT specialists are particularly motivated by unique and challenging projects. Many of the country's specialists are focused upon developing their skills and career potential above all else, leading some to happily accept slightly lower pay in return for innovative work, and earning Polish technology contractors the title of third most tenacious programmers in the world. The growing abilities of these career-focused experts, alongside the national Government's long-term investments into building future computer science experts, are creating wide networks of specialists that span generations.
How Offshoring Tech Skills Can Drive Digital Transformation in Banking
Digital transformation has become increasing popular in the past few years as companies seek to improve efficiencies and customer services, and the Covid-19 pandemic has accelerated the need for advanced technologies throughout supply chains. However, whilst around 70% of companies globally are planning a digital transformation strategy, only 7% of organisations have fully implemented their digital transformation plans – leaving a wealth of opportunity for digitally-focused businesses to capitalise on.
For banks and Financial Services institutions, the pandemic has also exacerbated pressure to compete with FinTechs. Digitalisation soared in Europe after March 2020: the use of FinTech apps rose by 72%. Before the pandemic, leading banks in developed markets saw 25% less branch use per customer than their peers by migrating payments, transfers, and cash transactions to self-service and digital channels. Another 10-15% of customers will be unlikely to use a branch after Covid-19, further increasing the urgency for digital platforms to replace in-person services. McKinsey's 2020 Global Banking Review recommends three core strategies for banking success in 2021 and beyond: speed and agility; fundamentally reinventing business models to sustain 0% interest rates and economic challenges; and adopting the best new ideas from digital challengers.
Offshoring can open up access to the skills needed for digital transformation in Financial Services – such as those experienced in analytics, artificial intelligence, robotics and blockchain – to empower banks to innovate faster than competitors. Teams of highly skilled developers, programmers, engineers and niche specialists can create and integrate new platforms, upgrade products and services to mobile-first, and deliver a personalised customer experience harnessing data and analytics. Offshoring facilitates the same high quality digital transformation projects, whilst enabling significant savings that can be invested into further digital innovation simultaneously.
The Banking Business Benefits of Offshoring IT Skills in Poland
For companies based in the Netherlands, the 2020 changes to the Wet Arbeidsmarkt in Balans (WAB) law on labour market balance has made hiring skilled IT contractors more difficult, and in many cases has increased temporary hiring costs. Swiss companies are paying the highest salaries for software developers in Europe, and the second highest in the world, with Norway and Denmark not far behind. When compared with the average salaries of tech specialists based in Poland, European countries with the highest expenditure on IT staff could reduce their costs by between one half and one third.
As a member of the European Union, Poland has all the EU benefits relating to freedom of movement and market access. The UK's recent departure from the EU has seen skills shortages projected, with 55% of technology professionals believing that Brexit will negatively affect the industry by widening existing skills gaps. London-based banks are poised to make additional savings by outsourcing teams to Poland: Polish office space rents are on average 62% lower than in the UK.
Neighbouring and nearby EU countries such as Germany and France stand to benefit from offshoring in Poland through strong currency rates of the Euro against the Zloty. European Financial Services firms have the ability to regularly visit Polish workforces who are just a short flight away from most of Western Europe's banking headquarters. The same time zone and multilingual abilities offered by Poland, including high rates of English fluency, set the stage for better aligned working hours and business communication than other popular offshoring hubs such as India.
Whilst India has in recent years been the popular choice for banks outsourcing and offshoring their tech services, the Covid-19 pandemic saw Polish outsourced teams provide greater stability and essential support. Business and Financial Services firms with offshore teams in Poland were able to shift 95% of staff to remote working within a week of the coronavirus lockdown, whereas some Asian hubs took several weeks to get up to 60% to 80% of staff working from home. A lack of infrastructure and poor internet connections meant that Polish IT professionals in shared service centres took on tasks normally completed by their Asia-based colleagues. In 2020, banks turned to Polish offshore hubs for reliable transaction processing, supply chain management and software development.
In recent years, numerous banks including Credit Suisse, UBS and HSBC have benefited from offshoring part or all of their IT services to Poland.
Case Study – One of the First Banks to Offshore to Poland
In 2007 a Swiss Bank outsourced over 300 IT jobs to offshore centres in Poland due to local skills shortages. The hub provides research and analytics, business process services, transaction and data processing, and IT infrastructure support.
The company's Chief Financial Officer stated that the centre "provides a flexible and efficient infrastructure to meet resourcing requirements, reduce costs and streamline processes".
3,600 people are now employed by the bank in Krakow.
Now one of the world's largest wealth managers, the bank has recently spearheaded a digital transformation project through agile transformation, engineering culture and improved tech delivery processes.
The multi-hub strategy has enabled the bank to grow from €4billion average quarterly revenues in 2007 to €6.8billion revenues in 2020.
How Banks and Businesses Can Offshore Their IT Teams
Offshore IT hubs provide world-class tech talent at significantly reduced cost investment, without compromising workforce quality or project delivery.
Establishing an employer proposition that matches the values, wants and needs of Polish talent pools is key to a successful offshoring strategy. To present as an employer of choice amongst growing competition from other banks and similar organisations, companies must invest in understanding the local candidate market, or partner with a supplier who already has this knowledge.
IT specialists in Poland prefer to engage and move through the recruitment process in their own language. As an international tech recruitment company, Templeton & Partners have 25 years' experience sourcing the most skilled IT contractors and executives around the world. Our Polish office is staffed with Polish nationals and fluent Polish speakers, who use their first-hand understanding of the local market and talent needs to attract and engage the best candidates.
Find out more about Templeton's award-winning recruitment services.
Read our Guide to Recruiting Diverse IT Teams.