In 2021 Forbes released its latest list of tech leaders who are inspiring the world with their quick thinking, creativity and resilience during the Covid-19 pandemic. From established brands to fast-growing challengers, there are countless examples of CIOs and CTOs going above and beyond to drive digital transformation and innovation in the past year.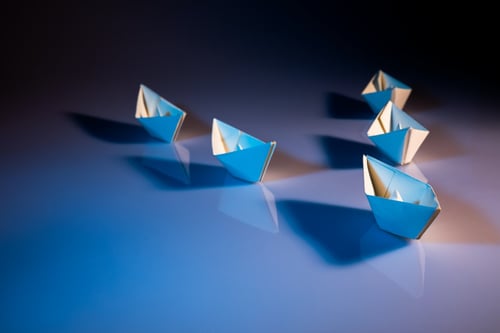 Templeton's tech recruitment specialists explore the stories behind some of these inspiring tech leader's achievements, their attitude to tackling new challenges and their rules for success.
5 Quotes & Innovative Examples from the CTOs and CIOs of Global Tech Companies
Miriam Aguirre – Driving Diversity & Inclusion in Gaming
In December 2020, esports company Skillz went public on the New York Stock Exchange with a market cap of $7.4 billion. Miriam Aguirre, Skillz CTO since 2013, delivered revolutionary patent innovation, security practices and a customer-focused innovation strategy that propelled the gaming company's overwhelming success.
As a minority woman in tech, Aguirre is determined to lead from the top to dispel the pervasive myths that exclude women from gaming and technology as a whole. In 2020, 41% of all gamers in the US alone were female. Despite the fact that female gamers report arcades and online platforms as male-dominated, often unpleasant environments – and evidence revealing that girls and young women's access to technology is restricted by their brothers and family attitudes – gaming is increasing in popularity with women across the world.
Aguirre sees creating an environment that truly represents the customer audience and wider society as the key to recruiting female tech professionals and making the industry more diverse and increasingly successful. 'I remember not seeing many people who looked like me in leadership roles, yet no one spoke about it. I wish I knew back then the power of each voice to make a difference. At Skillz, one of my biggest priorities is to foster a diverse and equitable workplace, forging a future where women and members of the POC and LGBTQ+ communities feel not only welcomed but encouraged to join the gaming industry.'
Chris Bedi – Internal Adoption of Innovation & Maximisation of Existing Skills
US-based software company ServiceNow surpassed Wall Street expectations in July 2021 with a year-on-year revenue boost of 32% to hit $1.41 billion with a $ 59 million profit for Q2 2021.
The cloud computing provider saw its own need for innovative workflows and communication processes escalate during the Covid-19 pandemic. After many businesses, including ServiceNow were forced into majority remote working overnight, CIO Chris Bedi utilised ServiceNow's own systems and customer services to support the company's own employees and secure business continuity. Bedi led the creation of AI-driven bots and predictive intelligence systems to support his global workforce.
Rather than merely chasing competitors and pursuing the latest tech trends, Bedi believes that proper utilisation of the skills, experience and abilities companies already have will both create better products and services for customers and deliver better business performance. 'We have to be brilliant at the basics. If the tech doesn't work, all the more advanced stuff like machine learning, connected customer experiences, digital supply chains, factories of the future, that doesn't work either.'
'Technology is not serving the business. Technology is the business. And who's responsible for building out these platforms? The CIO. Bedi maintains that IT leaders have the opportunity to look inwards as well as out, to stop, notice and analyse what the company does best, what its best assets are and what will truly help both the business and its customer base and that this must drive strategy. 'CIOs must become very conversant in how data can power new business models and new decision-making paradigms throughout their organisations.'
Greg Keeley – Involving Employees Across Departments in Organisational Security
CIO Greg Keeley was well ahead of the current banking trend that favours government intelligence-style fraud 'fusion centres' to address cyber security problems. Canada-based TD Bank Group has been launching fusion centres over the past few years to involve and unite employees in the security of their own organisation. Keeley's strategy helped drive TD Group's growth and success and contributed to the bank's recognition as Canada's Best Investment Bank in Euromoney's Awards for Excellence 2021.
Keeley placed the bank's employees at the heart of accelerating its digital transformation during the Covid-19 pandemic to enable remote working, address changing customer needs, and particularly maintain watertight security in the wake of growing cyberattacks. Leveraging both private and public cloud services to further digital transformation, Keeley introduced an internal 'Cloud Governance Council': a cross-functional team providing the right safety controls and data protection protocols for every customer and the bank itself. Keeley created multiple centres of different global regions that facilitated collaboration between IT teams and the bank's other departments to help it proactively identify risks, share knowledge and guard against cyberattacks 24-7.
'The security and stability of services can be jeopardised when organisations try to scale too quickly. Evolving customer expectations, coupled with increased security threats, mean it's critical for financial institutions to think with an innovation-first mindset and invest in their technology to stay competitive. My advice to any organisation entering a new phase of their tech journey is to create opportunities for your teams to get involved and empower them to help you take the next step.'
Meerah Rajavel – Delivering Recognised Value & Direct ROI from IT
Multinational software company and global household name Citrix recently saw paid subscribers rocket by 52% year-on-year with 11.4 million with growth accelerating from 34% year-over-year in Q1 2021. Citrix CIO Meerah Rajavel has helped drive digital transformation by challenging the common perception of IT as an in-the-background cost centre and has placed her tech team at the core of driving profit for the business.
Rajavel believes that modernisation is not always 'rip and replace', nor should it always be a daunting task. Instead, value is often best delivered incrementally. 'Projects like ERP modernisation can seem very daunting because they're not pebbles to move, they're mountains. Think big but deliver in increments. If you try to move the mountain, you're not going to know everything you need to know to move it when you start. It's an impossible goal, and there are a lot of risks. The execution has to be iterative, and when it is, the business gets value along the way.'
For Rajavel, it's not enough just to deliver value: CTOs and CIOs must ensure this value is also experienced and recognised internally. When planning the Citrix transformation project, Rajavel worked with the sales and marketing departments to determine their priorities and then strategised to deliver those first while determining the next steps on the way to a fully modernised platform.
Rajavel predicts, 'This crisis has thrust IT teams – often the 'unsung heroes' – into the limelight like never before. They have worked to deliver secure, reliable work environments that are keeping employees engaged and productive and businesses moving in extremely challenging times. Tech teams will emerge from the crisis more strategically and valued by their organisations.'
Sylvie Veilleux – Remote Work for a More Creative, Collaborative Culture
File sharing provider Dropbox utilised the pandemic to empower businesses and their employees with what they knew all along: flexible working styles and employee empowerment builds a working environment that is more conducive to innovation, engagement and pioneering growth. Dropbox's market-leading ways of thinking have seen the company achieve astronomical growth since its 2008 inception, with year-on-year revenue growth of 20% and a revenue of $ 1.91 billion in 2020.
CIO Sylvie Veilleux's previous experience teaching object-oriented programming to locals in a remote region of Indonesia taught her that work can take a person everywhere – and be done from anywhere. Dropbox has fully embraced the remote working trends popular with many of the globe's leading companies and has decided to implement remote work as its default for all staff going forward.
The Dropbox tech team is now looking into robust tools to support the remote transition, including virtual whiteboards and digital meeting spaces. Veilleux practices close involvement with all new technologies introduced and acts as a key real-time tester to understand new tools from an employee's perspective. 'I've been observing what technology and tools we need to have or include in a complete transformation so we can continue to have productive teams and we can maintain our culture. We're thinking about how we bring technology to people in this virtual-first world. I'm living and breathing it every day, so I get first-hand experience of what is working and not working.'
Veilleux has conducted a complete transformation of the idea of the 'workplace' itself: the current offices are being turned into 'studios' that banish rows of desks and focus purely on spaces for face-to-face brainstorming and communication. Dropbox's studios will power synchronous working, using the company's own tools to deliver virtual-first work. 'We know that the things that were really important to people (during national lockdowns) were to be able to connect with individuals and eventually get together when they need to collaborate and work as a team in a collaborative space. This is a place where we're all going to collaborate and get to get together as teams, but no longer as individuals working at a desk. The technologies that we're enabling are going to help us create connectivity and connectedness between people in studios.'
Veilleux believes a virtual-first approach will not only increase employee innovation, satisfaction and retention but will also enable Dropbox to recruit and hire from a much wider pool of talent, setting the scene for monumental global expansion.
Drive Digital Transformation in Your Organisation
Explore How FTSE 100 Leaders are Implementing Hybrid Working Strategies.
Is your team short of skilled talent in niche technologies? Our recruitment consultants deliver AI, ML, Cloud, Data & Software specialists across 40 countries – discover our tech recruitment services.