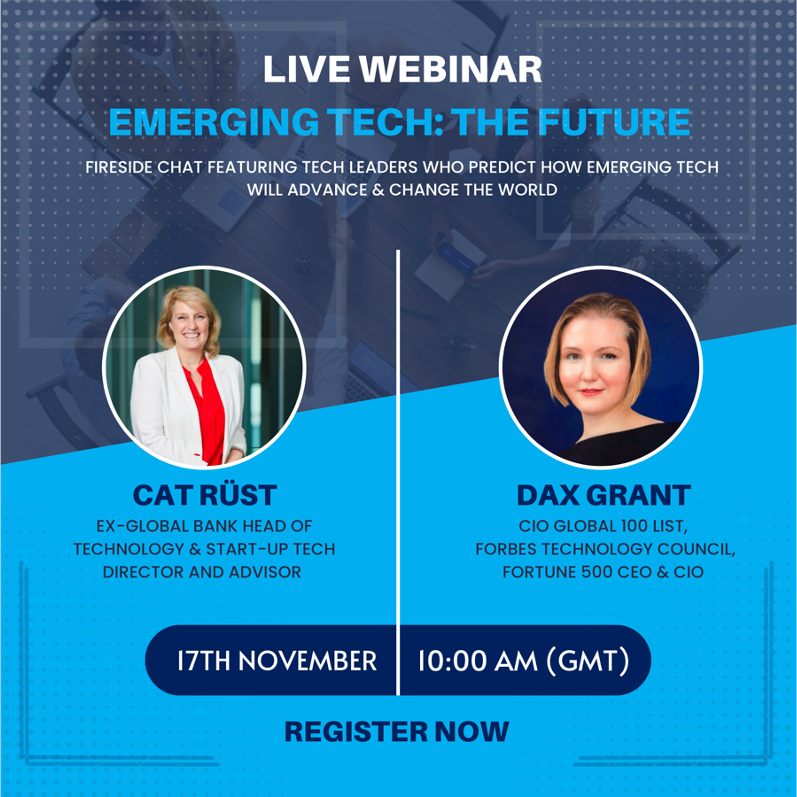 On Demand Webinar - The Future of Tech
Hear from world-leading CIOs and headline speakers Cat Rüst and Dax Grant who:
Reveal their

career journeys

and professional experiences
Discuss how emerging tech will change and advance the industry
Explore barriers and opportunities for women and diverse people working in the tech space
Share industry knowledge and answer your questions.
As the former Global Bank Head of Technology at Standard Chartered Bank and Asia Head of Innovative Technologies at UBS, Cat Rüst has 30 years' experience in the tech industry and is passionate about diversity of thought, representation and opportunity in tech. Rüst is a start-up tech Director and advisor, business growth and scale-up enabler and turnaround specialist.
A CEO, COO, CIO (Global 100 List), Entrepreneur (100 Successful Women in Business), Portfolio NED and Philanthropist, Dax Grant is recognised for digitising businesses, catalysing turnarounds and utilising courageous leadership together with technology to unlock value. Grant's accomplishments are recognised within the Forbes Technology Council, and she has a wealth of experience leading transformation, change and innovation.
Sign up below to watch our Fireside Chat Webinar on-demand, and hear from world experts on emerging technologies and diversity in tech.
Watch On Demand